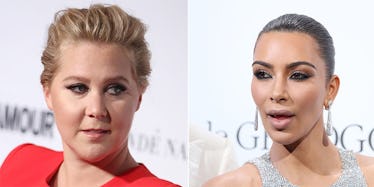 Amy Schumer Just Topped Kim Kardashian's Bare Ass Pic With This Nude Photo
REX/Shutterstock
WOAH, Instagram is pretty crazy today.
This morning, Kim Kardashian West broke the Internet by sharing a picture of her bare ass sitting in bed.
I guess she was just feelin' herself in the AM? It's whatever, Kim. Do your thang.
If you haven't seen the glorious pic of Kim Kardashian's butt, check it out below.
Yup, that's 100 percent not what I look like in the morning.
WORK IT, GIRL. DRINK THAT COFFEE, AND GO EAT SOME BREAKFAST.
She captioned the photo,
#secretproject coming soon @mertalas @macpiggott #mertandmarcus
Hmm, secret project? What the heck could that mean? Is Kim planning another nude photo shoot that will break the Internet AGAIN?!
Well, it looks like Kim isn't the only celebrity who's showing off his or her bod on this wonderful Thursday.
Amy Schumer just topped Kim Kardashian's naked photo with an Instagram of her wearing no pants.
That's right, the comedian just added this photo to Instagram, and fans are going nuts.
Check it out, y'all. Amy Schumer is rocking only an orange sports bra in this Instagram pic.
She captioned the photo,
Today please #wearorange for gun safety! #everytown
Schumer paired with Everytown for Gun Safety to work toward ending gun violence and building safer communities.
The 35-year-old posted the Instagram to show her support for the movement by wearing orange.
This isn't the first time Schumer shared photos of her on Instagram wearing no pants. Remember when she uploaded a pic of her entire vagina on fire?
Ugh, this woman is my hero.