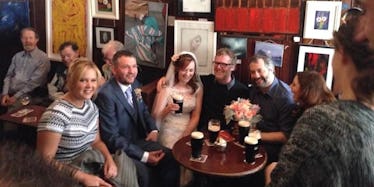 Amy Schumer And Judd Apatow Crashed A Wedding Party In Ireland (Video)
Amy Schumer and Judd Apatow crashed a wedding in Ireland, and the results were nothing short of amazing.
The duo was on a tour promoting "Trainwreck" when they happened upon the wedding party of JP Swaine and Eithne McAdam at Grogans pub in Dublin.
Rather than get their drinks quickly and skirt out the back, Apatow and Schumer decided to stick around, sing some shanties and celebrate the nuptials with the newlyweds' families and friends.
Who shows up for @jpswaine and Eithne's wedding only @amyschumer Glen Hansard and Judd Apatow pic.twitter.com/GxL1rIta9W — Steve Cummins (@Steve_Cummins) August 14, 2015
Amy Schumer, Judd Apatow and Glen Hansard are having a sing song in Grogans at the moment. — Warren Swords (@warrenswords) August 14, 2015
TIME reports the song they are singing in the video is "The Auld Triangle" from the movie/musical "Once."
Is Amy Schumer slowly turning into infamous event-crasher Bill Murray? Only time will tell.
I've unfairly decided, though, any wedding party that doesn't involve an Amy Schumer cameo officially sucks.
Citations: Watch Amy Schumer and Judd Apatow Crash a Wedding Party (Time)