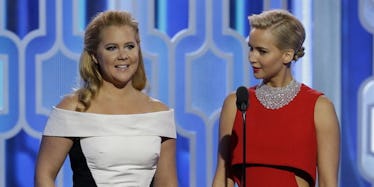 Amy Schumer Said She Once Saw Jennifer Lawrence Pee In A Bidet
REUTERS/Paul Drinkwater/NBC Universal/Handout
If you haven't heard, Amy Schumer is the new face on the cover of Vanity Fair. 
As part of her cover story, the comedian made a hilarious video of her fact-checking Jennifer Lawrence's interview quotes.
Let's be real, no one knows J Law better than her BFF Amy. The two have been best buds ever since Amy's movie "Trainwreck" hit theaters.
In the video above, watch J Law answer a series of questions while Amy makes commentary about her remarks. We all learn quite a lot about Jennifer from the video and how goofy her friendship with Amy is.
The best part of the clip is probably the end when we all find out some JUICY GOSSIP about the actresses.
Amy ends up telling the story of the time she saw J Law pee in a bidet, which was weird, because a bidet is intended for cleaning your ass...
Anyway, Amy explains the scenario much better than I do, so just watch the video above to hear it from the source.
All I have to say is J Law and A Schu are still BFF goals. You aren't truly tight with your best friend until you watch your him or her piss in a bidet, am I right?
Citations: Watch Amy Schumer Fact-Check Jennifer Lawrence's Interview Quotes (The Scene)