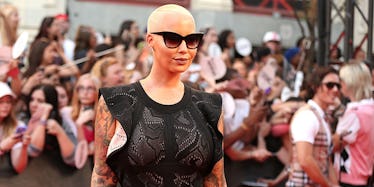 Amber Rose Actually Stuck Up For Kanye West In The Kimye-Taylor Swift Drama
REUTERS
This week, we finally got to hear what Tom Hiddleston thinks about the ongoing feud between KimYe and Taylor Swift. This time, Kanye West's ex-girlfriend Amber Rose is putting her thoughts out there on the celebrity beef.
According to People, a sneak peek of Amber Rose's new talk show The Amber Rose Show features her unexpected stance on the KimYe-Taylor Swift feud.
The 32-year-old mom, model and talk show host started off by saying,
I want to talk about Kim and Kanye's Snapchat.
The crowd immediately reacts as if Rose is the last person we would have ever expected to speak on the feud. Amber then shows a short clip from the "Keeping With The Kardashians" episode that exposed Swift's initial approval of Kanye West's controversial "Famous" lyrics in reference to Swift.
Rose then revisits the past and speaks on the life-changing moment back in 2009 at the VMAs when Kanye first opened up a can of worms with Taylor over Beyoncé. She'd been sitting right next to Kanye and even had words with Taylor's parents following the incident. Who knew?
Toward the end of the clip, Amber actually shows some kind of sympathy for Kanye and defends him in the ongoing feud (she still puts him in his place, though).
Check out the video above for a closer look!
Citations: Amber Rose Defends Ex Kanye West amid Taylor Swift Feud but Begs Him to 'Please Stay the F--- out of the News' (People)