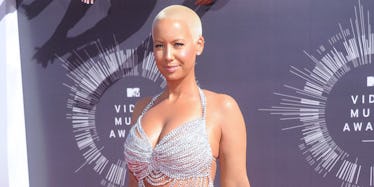 Amber Rose's New Earrings Probably Cost More Than Your Yearly Rent
Shutterstock
Amber Rose likes to employ a minimalist strategy to the top of her head, but, when it comes to the sides, girl goes all out like mall… scout… s…
IDFK, OK?! THE POINT IS, HER NEW EARRINGS ARE VERY EXPENSIVE.
The b-e-a-utiful diamond studs, which are reportedly $20,000, came straight from Eric Da Jeweler, self-professed "Jeweler to the stars... specializing in custom pieces."
Am showed them off along with a manicure by her girl, Teana, urging LA locals to follow both E and T on Instagram for their every diamond and/or nail-related need.
If you're thinking, "Wait, Amber, tell me more," you'll probably be thrilled to know the 32-year-old's eponymous show premieres July 8 on VH1.
That's right! In one week's time "The Amber Rose Show" enters our lives to teach us how to be proud, sexual and maybe, someday, wear $20,000 studs of our own.
Citations: Serious bling! Amber Rose treats herself to a pair of $20,000 diamond stud earrings (Daily Mail)