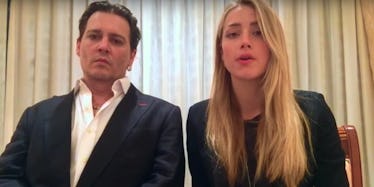 Everyone's Roasting Johnny Depp And Amber Heard's Bizarre Apology Video
YouTube
Amber Heard and Johnny Depp are being held hostage by the Australian government released an informative PSA about keeping Australia's borders safe by following immigration laws.
AMBER AND JOHNNY ARE PRISONERS! THEY NEED TO BE RESCUED FROM THE POLICE STATE THAT IS AUSTRALIA! THEY ARE BEING USED AS PROPAGANDA TO KEEP THE AUSTRALIAN PEOPLE FROM RIOTING.
Everything is fine. Mrs. Heard was more than happy to plead guilty on Monday after she provided false immigration documents last year when she came into the great country of Australia with her pet Yorkshire Terriers. The great country of Australia was more than happy to show its compassionate side by only sentencing Amber to a one-month, $1,000, good-behavior bond sentence, instead of throwing her in prison for 10 years -- a punishment it had every right to dole out given the severity of the offense and the disrespect the couple showed the great country of Australia, its people and Magistrate Margaret Callaghan.
IT'S A BIG CONSPIRACY, MAN! JOHNNY IS BEING HELD IN A DUNGEON UNDER THE SYDNEY OPERA HOUSE, AND AMBER IS BEING KEPT IN AN ATTIC AT BINDI IRWIN'S HOUSE! THINGS AREN'T WHAT THEY SEEM! OPEN YOUR EYES, AUSTRALIAN SHEEPLE!
Heard and her fiancé, Johnny Depp, were more than happy to read a statement on camera about Australia's "War on Terrier." They were not forced to read anything at all, and there were not armed guards in the room, and those armed guards weren't pointing guns at Johnny's head while he read his notes. Both Johnny and Amber were happy to be there and more than happy to share time in the great country of Australia.
These hilarious jokes by Twitter are comical to us here at the Australian government.
AUSTRALIA IS THE NEW ISIS IS A FUN PLACE TO VACATION! THAT'S WHY WE ARE TALKING IN CAPS!
EVERYONE GO TO THE CAPITOL NOW! SAVE THESE PRISONERS! VIVA LA AUSTRALIAN REVOLUTION!
God save the queen.
Sincerely,
The Australian Government
Citations: Amber Heard Avoids Jail in Australian Dog Smuggling Case Records Awkward Apology Video Alongside Johnny Depp (E! News)