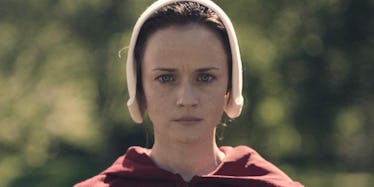 Alexis Bledel Reveals Scariest Part Of 'The Handmaid's Tale' And It's Horrifying
Hulu
A ton of "Gilmore Girls" fans will probably be checking out Alexis Bledel's new series "The Handmaid's Tale" on Hulu this Wednesday, but they definitely should not expect the warm, feel-good vibe of "Gilmore."
No, instead of sipping coffee with her mom or reading a book in a gazebo, Bledel's character will be forced to withstand the horrors of sex slavery in a dystopian future. Yeah... we're definitely not in Stars Hollow anymore.
Based on Margaret Atwood's 1985 novel of the same name, "The Handmaid's Tale" will star Alexis as Ofglen, one of the several fertile women forced to procreate with the high-status men under a Christian fundamentalist government that takes over the United States.
Sounds terrifying, right? Well, Alexis noted in an interview with Metro US that although it's a fantasy series, the true terror of the show comes from the aspects of reality it highlights.
The fact that many of the things in it are not made up [is what scares me most]. All of this has happened somewhere in the world — these are things humans have done or experienced somewhere. It gives it a frighteningly real aspect.
It's the fact the forced sexual ownership of women the show portrays is actually happening in the real world that adds the real terror to "The Handmaid's Tale," and makes it even more relevant.
The real-life instances are as one-to-one as the practice of sex trafficking, an illegal activity that still continues to go on all over the world. Additionally, the show hits on government regulation on women's bodies -- an especially hot-button issue since Donald Trump's' decision to defund Planned Parenthood.
Alexis Bledel goes on to say the series definitely stirs up thoughts on women's reproductive rights in our current political climate, and she hopes it will get more people involved in the issue.
"The Handmaid's Tale" is streaming on Hulu now.
Citations: Alexis Bledel tells us the most frightening thing about 'The Handmaid's Tale' (Metro US)