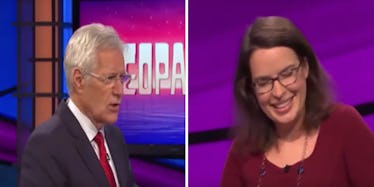 Alex Trebek Savagely Dragged A 'Loser' Contestant Over Her Music Taste
YouTube
Oh, buuuuuurn.
Let it be known. There is no one on planet Earth that is cooler than Alex Trebek. He spits fiery truths and would probably wreck you in an "8 Mile"-esque rap battle.
This Canadian silver fox will always outfox you, fool. You want to come after this once-mustachioed TV legend? THIS IS WHAT ALEX IS GONNA DO ABOUT THAT:
One "Jeopardy!" contestant by the name of Susan Cole made the classic mistake about getting excited about nerdcore hip-hop, which is about as nerdy as it sounds.
In her words, it involves rapping about "video games, science-fiction" and "having a hard time meeting romantic partners." WEAK!
"Hello? Mr. Ambulance? Can you bring a woman straight to the hospital? Because she just... got... burned."
That's right, in response to her musical choice, Alex said that the group of performers who enjoy this genre of music are definitely "losers."
BOOM GOES THE DYNAMITE!
Man, if someone like Trebek called me a "loser," I would just pack it in and live as a hermit, so much so that that decades later, children would point at me and say, "There goes ole man McGovern. Rumor is Alex Trebek called him a loser."
I'd basically become Boo Radley. Such is the power of the word "loser."
However, Susan did not go quietly into that dark night. She ended up winning and taking home over $20,000. Who's laughing now, Trebek?
Get it, Susan.
Looks like Alex's savagery could not stop Susan's takeover, for she showed no mercy whatsoever.
You know that we're all going to be waiting with baited breath to see how her playful name-calling feud with Trebek.
All joking aside, congrats, Susan! I'm sure nerdcore hip-hop may have actually assisted you in your victory.
I guess I'll have to search for that in Spotify sometime soon.
Citations: Jeopardy's Alex Trebek Delivers Sick Burn to 'Loser' Contestant — Watch (TVLine)