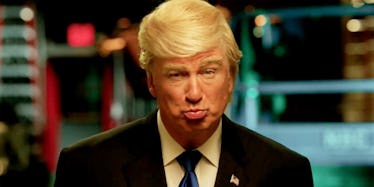 Alec Baldwin Will Return To 'SNL' As Trump, But It Sadly Won't Be A Weekly Gig
YouTube
Your TV prayers have been answered. Alec Baldwin will return to NBC's "Saturday Night Live" to take on the role of playing President-elect Donald Trump this weekend.
I repeat, Alec Baldwin is going to play the new version of Trump who we now all know as the next president of the United States.
After following the presidential debates all election long, the 58-year-old actor and comedian will take over your TV screen once again to bring the American people up to speed on Trump's latest mannerisms, cringeworthy one-liners and hilariously insensitive remarks about pretty much everything.
Despite Baldwin's return to his comical role as Trump, the "30 Rock" alum won't be dedicating much time to the role after his next performance.
Viewers began to speculate on whether or not Alec Baldwin would even play Trump on "SNL" again after he was noticeably absent from the first post-election episode on November 12.
Well, you no longer have to scream at your TV like a madman or madwoman. The TV gods have answered -- Alec Baldwin will be putting on his best DJT impersonation for your enjoyment and Kate McKinnon will take on her usual role as Hillary Clinton this weekend.
After announcing his return to "SNL" as Trump this coming weekend, Baldwin noted that he wouldn't be appearing on the show to play Trump as often as he used to.
Baldwin spoke to Vanity Fair, saying,
I'm going to do it again this weekend, but not all that often. There was a lot of things online that was said about it — like why didn't I do it after the election? I was booked that weekend. Not even other jobs; we have things to do. It crashed every weekend.
It seems that the gig takes a toll on the Baldwin family's personal schedule.
Alec Baldwin's wife Hilaria also opened up to Vanity Fair, explaining,
When he does SNL, it takes a big chunk out of it because you're up so late, and then it eats into the next day. And for us, with little kids, it's hard.
Further elaborating on his spot-on impression of the president-elect, Baldwin sat down for an interview with WNYC's Brian Lehrer. Alec said,
I'm not an impressionist, per se, but if you do any kind of comedy and they ask you to do that, most of the time, there's some degree of appreciation, I think, involving somebody you like. Trump is somebody who — I don't hate Trump, but he's not somebody I admire, so it was more difficult.
While Alec Baldwin might not "admire" Trump, the president-elect isn't necessarily a big fan of Alec's portrayal of him, either.
The 70-year-old real estate mogul and reality TV star took to Twitter back in October to speak about Baldwin's impression of him, tweeting,
Watched Saturday Night Live hit job on me. Time to retire the boring and unfunny show. Alec Baldwin portrayal stinks. Media rigging election!
If he wasn't a fan of that, something tells me he's going to explode after Baldwin's next impression this weekend...
Catch "Saturday Night Live" Saturdays on NBC at 11:30 pm EST.
Citations: Alec Baldwin Returning to 'Saturday Night Live' as Donald Trump This Weekend (US Magazine)