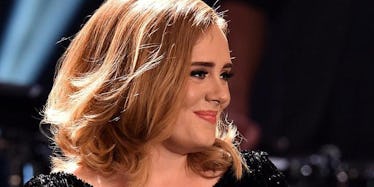 10 Adele Lyrics To Guide You Through Love And Life In The New Year
Getty Images
Okay guys, time to grab your wine and tissues.
With 2015 coming to a close, I can't help but reflect on this past year.
Whether you've fallen for a new love recently, or have involuntarily fallen out of love this year, we all could use a little Adele wisdom to guide us through 2016.
Here are 10 love lyrics to live by in 2016 from Adele's album, 25. 
They'll definitely inspire you to start fresh at love and life this New Year.
1. At least I can say that I've tried. –"Hello"
All of your friends tell you the same thing: DON'T. TEXT. HIM.
Maybe you went ahead and called him a thousand times. Adele knows the deal. If he's ignored your calls and deleted your messages without a proper response, he's not worth your time. At least you can say that you've tried.
2. We've gotta let go of all of our ghosts. – "Send My Love To Your New Lover"
The New Year is all about starting anew. Forget that a**hole who broke your heart.
Maybe he's already moved on or maybe you're just hoping for the better. Just remember, it is a new year for new beginnings. Let go of what's hurt you in the past. What's meant to be will find a way and there's no reason to keep hurting yourself with memories that no longer matter.
3. It's hard to admit that everything just takes me back. – "When We Were Young"
Letting go is hard but it doesn't mean you have to be Superwoman. It's okay to admit you're a little weak. Nobody's perfect. It's okay to look back every once in a while, just don't dwell on it.
4. Every story has its scars. – "Remedy"
Sometimes you wish a relationship had ended differently and you have your regrets about it. But that's what life is all about – realizing your mistakes and learning how to deal with them.
Things don't always end the way we want them to and life steers us in all different directions when we just want to go straight towards the light. We all have baggage, but it's about finding someone who accepts us for who we are.
5. I want you to be my keeper but not if you are so reckless. – "Water Under The Bridge"
Don't ever settle for a love you don't deserve. Sometimes the one you love just isn't right for you. Maybe you don't see that they're hurting you and maybe you love them too much to let them go, regardless of what's best for you.
6. I'd rather say it now in case I never get the chance. – "River Lea"
As we all know from Adele, say it now or forever hold your peace. If you love someone, let them know. What's the worst thing that could happen? They don't love you back? At least you know you're capable of loving someone else and are brave enough to expose yourself, despite the consequences.
7. I want to live and not just survive. – "Love In The Dark"
Self-explanatory. It's a new year – get f*cking crazy. Live a little or live a lot! Go on that trip you've always wanted or take the leap towards your dream job. Who's stopping you? Not Adele.
8. Look up to the sky not just the floor. – "Million Years Ago"
There's so much possibility, so much to strive for, and so much to believe in. 2016 is the year to build up your confidence and get what you want. You are limitless.
9. Let this be the way we remember us. – "All I Ask"
Goodbyes aren't always easy, especially to someone so memorable and life-changing.
Remember to think about the actions you take and the words you say in any given situation. It may be the last conversation you have with someone, and what they think of when they look back on your relationship.
10. It matters how this ends 'cause what if I never love again? – "All I Ask"
Treat every love like it's your last.
Sure, there are millions of people in the world, dating apps to download, and places to meet.
But invest your time in love as much as you can. Take chances. Communicate. Give it all you've got.
Because what if you never love again?