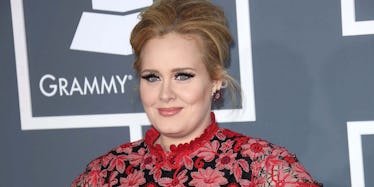 Adele Forgot The Words To Her Own Song And Had The Absolute Best Reaction
Shutterstock
Do you ever wonder what is going through Adele's mind when she's standing on stage, eyes closed, lost in the emotion of the song she's singing so expertly the whole room's reduced to tears?
Well, sometimes all she's thinking is,
Sh*t. Sh*t. Sh*t.
During a recent world tour stop in Lisbon, Portugal, the Grammy winner launched into the wrong verse of a song and immediately cut herself off, saying, "Sh*t, wrong words."
Adele forgot the lyrics to her song and this was her reaction. pic.twitter.com/n1EyHwXM56 — Pop Crave (@PopCrave) May 25, 2016
Adele has a history of lyric amnesia, but fans know better than to be dicks about these small-scale flubs.
While performing in Copenhagen, Denmark a few days earlier in the tour, the gift from British heaven made it to the second verse of "Rolling in the Deep" before realizing she'd lost her place and launching into another genuinely charming string of profanities.
Rather than get impatient during the final song of the show, the audience lived for the slipup and cheered Adele on as she took it from the top.
If it means we get to see Adele in all her flesh-and-blood glory, she can pause mid-song and stage a live execution of our childhood idols.
She's just that good.
Citations: Adele hilariously forgets words to her song during concert, and it's not the first time (WARNING — GRAPHIC LANGUAGE) (New York Daily News), Hello, do you need an autocue? Hilarious moment Adele turns the air blue after forgetting the lyrics to her own song (Daily Mail)