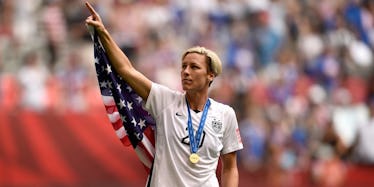 World Cup Champ Abby Wambach Wants Badass Girls Like Her To Play Video Games
Getty Images
Ever wonder what US Women's National Team star Abby Wambach has been up to after winning the 2015 FIFA Women's World Cup, gold medals in two separate Olympics contests and being named one of Time Magazine's 100 Most Influential People?
Well, aside from a little golfing, the USWNT living legend loves to play video games, and she wants other badass girls like her to follow suit because, as she tells Elite Daily, she's been gaming her whole life:
I had the old Nintendo system, where you blew on the cartridges and somehow, magically, they worked again. I was huge into Zelda, a big Super Mario fan, Duck Hunt, back in the day when they had the gun. I've been playing video games for pretty much my whole life.
As you could probably imagine, with her being a soccer legend and all, Abby plays a ton of FIFA and is thrilled to be included in FIFA 16, the first installment of the popular video game series to feature not just the men's soccer players, but also the women.
I play as myself, and of course I score all the goals. I'm a little bit selfish when I play video games, what can I say?
And as happy as she is to be personally included, she can't help but think about what this means for female gaming:
You would think that video games are predominantly male, but they're not. There's all this research that shows there's this huge uptick in girls playing video games, and I think a large part of that is the video games that allow you to be women.
Turns out, Abby's right. According to The Washington Post, nearly half of America's 190 million gamers are women. The average female gamer has been playing for about 13 years, showing that not only do a lot of women play video games, but do so and are very dedicated.
However, according to Forbes, a lot of those female gamers accounted for primarily play mobile games, leaving the online gaming worlds of popular consoles like Xbox and PlayStation, as well as PC, still very male-dominated.
And these men can be quite harsh, particularly to women, an article in The Atlantic states, citing a study that says 70 percent of all female gamers play as male characters to avoid harassment.
As a trailblazer herself, Abby, an openly gay female athlete, knows a thing or two about having to tough it out through other people's ridicule, and she has a message for girls out there who want to play video games on these consoles but might be dissuaded by the hate they could encounter online:
There has to be pioneers for everything as it pertains to male-dominated stuff. Any girls who are trying to get involved in video games, or more involved in anything that's male-dominated, have to grow some thick skin. Remember, you have to blaze some trails, and sometimes you have to take a few metaphorical punches.
Abby has teamed up with Nintendo as the face of Mario and Sonic at the Rio 2016 Olympic Games to promote not just the importance of healthy competition and sports, but the importance of getting women involved in gaming:
It's very important that girls feel like they're also being accounted for. So often it was just male-dominated sports, male-dominated video games. Now that women are being involved in video games, it makes women believe they can be anything they want to be.
In Mario and Sonic at the Rio 2016 Olympic Games, players can create their own avatars, known as "Miis," in the game and play as themselves, a feature of the game that Abby believes is important in empowering women to play video games:
You can actually create your own self, what you look like, what you wear and play as yourself throughout this game, and I think that is very important.
So while Abby likes to play as herself in FIFA and score all the goals with her character, female gamers can create themselves and do the same (soccer is one of many sports included).
And for those of you who are interested in doing so, Mario and Sonic at the Rio 2016 Olympic Games comes out in the US tomorrow, March 18. (For the record, Abby takes Mario over Sonic any day.)
Otherwise, grab a copy of FIFA, play as the USWNT, and beat some of the guys you'll encounter online with some real girl power.
But make sure you're scoring all the goals with Abby.