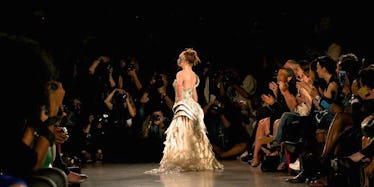 Reliving NYFW: 8 Of The Best Moments From Fashion's Biggest Event
Before we engross ourselves in London Fashion Week, let's reflect on the eight most newsworthy moments of New York Fashion Week.
1. A model with Down syndrome inspired us all on the runway.
Australian model Madeline Stuart walked in the FTL MODA show on Sunday. Stuart followed in the footsteps of actress Jamie Brewer, who was the first model diagnosed with Down syndrome to grace NYFW.
Madeline Stuart, who is just 18 years old, presented two looks by Hendrik Vermeulen. Commenting on her daughter's success, Stuart's mom said she considers modeling a vehicle to get the message out.
"I think that's why she's done so well, because this isn't about us. It's about fighting the fight for all the people out there that are a bit different, that need to be loved," she has said.
2. We were blown away by #BlackModelsMatter statement pieces.
Street style took a political approach at this NYFW.
Model Ashley B. Chew made waves by donning a custom tote, with "Black Models Matter" printed brazenly on its side. Her statement kickstarted a much-needed dialogue about the fashion industry's lack of diversity.
3. Kanye sparked controversy, as per usual.
Kanye was not scheduled to present his second Yeezy collection this season, but he decided to do so anyway. His surprise showcase disrupted Anne Bowen's plans, and she was forced to reschedule her show to avoid conflict.
Bowen complained to Women's Wear Daily, saying,
"We have been prepping for a year for this at considerable financial cost to our company. Kanye knows he is a media sensation and it is just not ethical to do this. We have put our heart and soul into our show, and should not be stepped on like this."
4. Givenchy heels were a safety hazard.
In its first-ever NYFW appearance, Givenchy honored New York City by basing the set of its SS16 show on the anniversary of 9/11. An ironic mishap took Givenchy's theme to the next level, when two towering women came crashing down the runway.
Candice Swanepoel and a fellow model sadly tripped mid-strut. If two runway experts can't handle Givenchy heels, we plebeians would be wise to shop elsewhere.
5. We saw the return of the model squad.
Kendall Jenner, Cara Delevigne, the Hadid sisters, Karlie Kloss and Hailey Baldwin are bringing back the "model squad" of the 90s. They share the most exclusive runways, party together and promote each other on social media.
But can this Gen-Y model clique hold a candle to the ORIGINAL supermodel squad? When compared to Christy Turlington, Kate Moss and Stephanie Seymour, this young bunch has a long way to go.
6. Plus-sized models stole the spotlight.
Plus-sized model and body-image activist Ashley Graham is making serious strides in the fashion world.
This week, she walked in Black Orchid (her own lingerie line) amongst an entirely plus-sized cast. These women turned heads and continued to to prove that "sexy" comes in all shapes and sizes.
7. Uber made a killing, as the shows were scattered throughout the city.
Long gone are the days of NYFW's convenient tents. This season, many designers branched out from Lincoln Center and Spring Studios, opting to, instead, select locations better suited to their unique visions.
Carolina Herrera took over the Frick Collection and Rag & Bone hosted their SS16 show at St Ann's Warehouse in BROOKLYN (although Anna Wintour still made the trek).
Though the sets were more creative and personalized, many guests could not attend as many shows as planned, simply because they were too far apart.
8. Transgender models are taking the fashion world by storm.
Last March, model Geena Rocero professionally came out as transgender. After a 10-year modeling career, Rocero only recently felt comfortable sharing her story. This year, she walked at the Carmen Marc Valvo show.
But Rocero isn't the only trans model on the scene. Peche Di, a model and graduate of NYU, founded an entirely trans modeling agency this year. Her agency has signed 19 models, and plans to launch their careers in time for next year's NYFW.