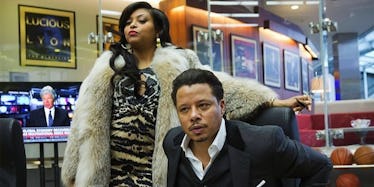 6 Reasons 'Empire' Is The Best Show On Television
Empire/Fox Television
"Empire" is undeniably the biggest Network TV sensation we've witnessed in years.
The hit Fox drama series has been shattering records and dominating the ratings for six weeks in a row.
If you're one of the few people who hasn't seen the show, which Lee Daniels created, all you need to know is it's about a music mogul named Lucious Lyon (played by Terrence Howard), who finds out he's terminally ill and decides to let his three sons prove to him one of them is fit to run the family business.
His ex-wife Cookie (played by Taraji P. Henson) also returns from prison after taking the fall for him only to find that he has moved on to a new woman and her children don't get along.
"Empire" is built on a great premise: family drama can be exciting, but definitely more so when it's set in the world of hip hop and high stakes are involved.
The cutthroat world includes shady deal making, backstabbing and doing whatever it takes to get to the top, all the while entertaining us.
Here are just some of the reasons why "Empire" is the show that everyone tunes in to watch on Wednesday nights:
The Music
It worked for "Glee," so why not make this drama a contemporary musical, too?
The difference between "Empire" and "Glee," though, is that the music on "Empire" is completely original and you can expect to bop your head to at least three songs per episode.
I know a few people who stream the soundtrack on Spotify and I've bought a song or two on iTunes, too ("Keep Your Money" is my go-to song in the morning).
Plus, since Timbaland produces the music, you know it'll be quality all the way.
Cookie
Cookie is arguably the most exciting character on "Empire." From her extravagant fashions to her witty quips, she always keeps us entertained.
We're also constantly reminded that Cookie has talents of her own. She knows music just as much as she knows her ex-husband wants her back. The lady knows how to make a cookie out of sour dough.
There is no way Lee Daniels didn't have Taraji P. Henson in mind when he created his three-dimensional, pitbull-in-heels character. She's a joy to watch, quote and meme every week.
The Twists & Turns
Being a one-hour drama, you can expect many twists and turns, as well as revelations and misunderstandings on "Empire."
With the exception of Jamal, every single character on this show has a hidden agenda and a "by any means necessary" attitude about life.
This translates to audiences gasping and yelling at the television every week when a character murders a close friend or puts on a bib before pleasing her husband — I'm sorry, did you miss those jaw-dropping scenes?
Also, the writers of the show aren't afraid to tackle touchy subjects, like homophobia and mental illness. They get brownie points for touching on these topics in such a fearless way.
Jussie Smollett
Jurnee Smollett is a name we're used to hearing ("Eve's Bayou," "Great Debaters," Tyler Perry's "Temptations"), but who knew her older brother was just as talented?
Not only is he super cute, but he can also sing, dance and is a pretty good actor.
He might play a closeted gay man, but his female fan base has definitely grown since the show stared. He's fun to watch for many different reasons.
Terrence & Taraji's Chemistry
By now, you've probably heard that Taraji P. Henson famously fought for Terrence Howard to play her costar on the show, and we're glad she got her way.
Thanks to this genius casting, "Empire" is basically "Hustle & Flow," the sequel.
The two actors have amazing chemistry and steal every scene they are in together. There is no empire without Terrence and Taraji.
The Variety Of Guest Stars
Because "Empire" is a drama based on the music industry, the familiar faces that pop up on the screen from week to week also bring a cooler vibe to the show.
From Courtney Love playing a washed-up artist in need of a comeback to Naomi Campbell playing a demanding cougar, no storyline is too much for people outside of the show to handle.
In fact, Lee Daniels recently posted a picture of himself with Denzel Washington, which prompted rumors that Washington would be on the show next.
"Empire" is slowly attracting movie stars, and they all want in.
These are just some of the many reasons why "Empire" draws in millions of viewers every week, but if you really want to learn what the big deal is, tune in yourself.
The show airs Wednesday nights, only on Fox.