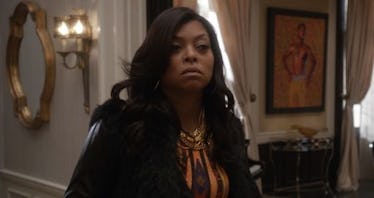 6 Real-Life Lessons You Need To Learn From Cookie Lyon Of 'Empire'
20th Television
Love her or hate her, you probably recognize the name Cookie Lyon. And if you don't?
Well, it's time to climb out from underneath that rock of yours, and allow yourself to indulge in the addiction that is "Empire."
Played by the talented Taraji P. Henson, Cookie is the matriarch of the Lyon family who is introduced to viewers after being released early from a 17-year prison sentence.
Her mission is to put her broken family back together and reclaim the Empire Records throne. Cookie steals every scene, and does so unapologetically.
Her confidence commands attention and demands respect. She's a force to be reckoned with and she isn't planning on allowing you to think otherwise.
Between breathing life into a one-dimensional vocalist hanging on by a thread, and getting her sexy on with the head of security, Cookie is going to give you the raw, unfiltered truth, whether you want to hear it or not.
And, even though she stirs the drama pot almost twice as often as fixing the problem, you could probably learn a life lesson or two from Cookie Lyon.
1. When You Walk Into A Room...Own It
When Cookie walks into the room, you pay attention. She commands your attention, and why shouldn't she? Sure, she's been out of the game for a little while, but Cookie returns like she never left and seizes every moment and every opportunity.
Life is too short to always be the wallflower. Success is all about courage coupled with hard work, and Cookie is the perfect mix of both.
2. Living An Unapologetic, Authentic Life Will Get You Far
Sure, there are times when Cookie's "authenticity" might get a little too real … like the time she threw her Prada pump at Lucious Lyon (played by Terrence Howard) in a furious rage, barely missing his head. Or, the time she went head-to-head with Naomi Campbell's character calling her a cougar.
Doesn't she know nobody comes for Naomi?
Nonetheless, Cookie's transparency is not only refreshing, it propels her through tough moments and brings even her most cynical critics — aka, Boo-Boo Kitty — to want to join her team.
Instead of investing so much energy trying to transform into an edited, watered-down version of yourself, work on finding your most authentic self and see what doors open up for you.
3. Being Strong Doesn't Mean You Can't Be Vulnerable
There is no denying that Cookie is both independent and resilient, but that doesn't mean she doesn't have feelings. Time and time again, Cookie reveals that at the end of day, those she loves most mean the world to her and she will stop at nothing until her family is together again.
Whether working to regain the affection of her youngest son, Hakeem, or keeping things steamy with her ex-husband, Cookie needs love, too, and isn't a afraid to wear her heart on her sleeve.
It's great to have confidence, but don't let your need to hold the steering wheel prevent you from allowing yourself to be vulnerable.
It's important to choose wisely on whom you allow in your inner circle, but once you've decided you can trust an individual, it serves you well to learn to let your guard down.
4. Bold Fashion Prints Will Probably Always Be On Trend
Faux fur? Check. Leopard Everything? Check. Cookie's fashion channels Lil' Kim circa 1997 and it is everything to us. Fresh out of jail, Cookie is a fierce fashionista.
Just like her personality, her outfits are bold and feisty with a sprinkle of animal print. Between donning skin-tight cheetah print wrap dresses and fuchsia mink muumuus, Cookie's wardrobe screams, "I have arrived!"
Take this as your cue to throw on an extra layer of leopard-print something and strut into the office like you own the place.
5. Family Is Everything
So this one is a given, but in case you need to be reminded, family is one of the most important gifts we are given and should be treated as such.
Family is worth fighting for, and Cookie reminded us all season long that she is willing to fight for hers.
6. It's Important To Know When It's Time To Move On
As wise Kenny Rogers once said, "Know when to walk away. Know when to run." Most of us have encountered the bad boy that we know is no good for us, yet we can't seem to shake the idea of having him in our lives.
We keep trying to convince ourselves that we can make it work, and ignore the blatant signs that he is not the one. Cookie gave Lucious a fair chance to prove that he was a changed man, and when he proved to be Lucious the jerk, Cookie was over it — for real.
We could all learn a valuable lesson from Cookie. Accept the love you deserve, and nothing else. If he can't give you the respect you deserve, he doesn't deserve you.