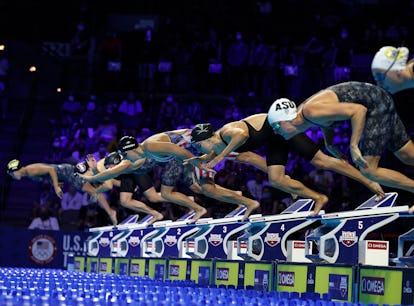 Behold, Every U.S. Olympic Swim Team Member's IG Handle
Al Bello/Getty Images Sport/Getty Images
When it comes to Olympic sports in which the U.S. dominates, swimming is up there. From Michael Phelps to Katie Ledecky, this is where the U.S. racks up a lot of the gold and silver medals. While Phelps is no longer competing in the Olympics, Ledecky is back for 2021, and she's got several returning Olympians on her team, along with a host of new and promising faces. So, for those who want to follow the in-pool action, here are all the 2021 U.S. Olympic Swim team members' Instagram accounts.
The U.S. Olympic swim team is enormous. Fifty competitors are representing the country this year in the water, ranging in age from 15-year-old Katie Grimes to 30-year-old Tom Shields. Grimes is the youngest swimmer since Ledecky to make her Olympic debut. Thirty-four other first-time Olympians join her on the roster, 10 of whom are teenagers like her.
Fans should note that these Olympic games are under enormous scrutiny due to COVID-related issues, with new cases turning up every day in Japan, where vaccination rates remain low. So far, the U.S. swim team roster hasn't been affected by the increase of cases in Tokyo, but that could change at any time. However, the Tokyo 2020 organizing committee is reportedly watching closely and won't rule out a cancelation if conditions are deemed too dangerous.
The Olympic Games pool competition at the 2021 Tokyo Olympic Games begin July 24, 2021.