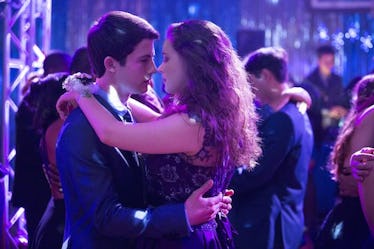 '13 Reasons Why' Had Therapy Dogs On Set For One Specific Scene
Netflix
"13 Reasons Why" tackles a lot of important topics that are often overlooked in the TV landscape — but it's an undeniably painful show to watch.
Its depiction of bullying, sexual assault, mental illness, and suicide is unflinching, so it couldn't have been easy for the actors who starred in the series. Luckily, they got much-needed support from some adorable canines.
In an interview with PopSugar, Dylan Minnette and Katherine Langford (who play Clay and Hannah, respectively) said therapy dogs were on set to help the actors cope with one specific scene. Minnette said,
I know there was one scene, I wasn't around, but they had therapy dogs on set. There was a puppy per hour. They really tried to help out. The puppies helped. [Langford] had the brunt of the emotional stuff. I mean, we all have very emotional parts, but this is about her character.
Simply watching the series was a painful rollercoaster of emotions, so it must have been incredibly intense for the actors to inhabit these characters for months.
When there weren't adorable canines on set, the actors used other coping mechanisms.
Langford previously told E! that she watched old episodes of "The Office" and played piano after intense days on set. She said,
For me, what kind of eased it was that when I got there we had to find locations to live and inhabit for the next six months. The first thing that I put in my apartment was a piano. I bought one for $50 and it was a lifesaver because I just went home and played and played.
The series was shot in Northern California, so Minnette went home to Los Angeles on his days off in order to decompress.
Langford, who's from Australia, didn't have that option. Thank goodness for "The Office," piano, and (of course) therapy dogs.
Citations: How Netflix's 13 Reasons Why Is the Most Important YA Adaptation Yet (PopSugar), How Katherine Langford Handled 13 Reasons Why's Heavy Material (E!)