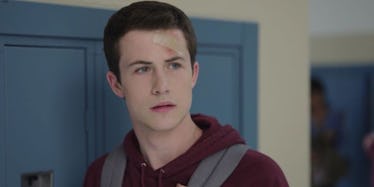 '13 Reasons Why' Season 2 Theme Is A Bit Different Than We Thought
Netflix/YouTube
13 Reasons Why has been one of the most talked about shows in the media during the past year, and for good reason. In retrospect, the Netflix original series based on Jay Asher's novel helped to launch a long overdue, full-scale discussion in mainstream media about mental illness, a portion of which has been focused on the show's failures to sensitively approach triggering topics and to provide necessary resources for those affected. That being said, one of the show's stars, Dylan Minnette, spoke with Entertainment Tonight about how the series will be different in its upcoming second season and what fans can expect from 13 Reasons Why Season 2.
Recently, Minnette, who plays Clay on the show, revealed that despite the backlash from the show's critics during Season 1, the Netflix drama will not be shying away from addressing delicate topics in the forthcoming season. Indeed, the new season will pick up several months after where we left off and will focus on the aftermath of the first season's events. He told Variety, "It's evident from the get-go that we're not pulling any punches this year." Clearly we are in for a similar approach to sensitive subjects; hopefully, this time around the show will be more attuned to the concerns of viewers.
In a new interview with ET, Minnette talks more about what the series has planned for its new episodes, he says,
This season particularly is a lot about recovery. It's naturally going to progressively get to a more emotional place, due to the nature of the story we're telling. I'm sure we're all heading in some dark directions again. I think anybody would be surprised if we weren't.
Of course, we'd be surprised if 13 Reasons Why was suddenly a lighthearted comedy, so the "dark directions" Minnette mentions are to be expected. Where those directions will take us remains a mystery, though I'm sure the fallout from Alex's (attempted?) suicide and Bryce's sexual assaults will be foci at some point.
What is new, though, is the theme of Season 2 as it's referenced by the actor: recovery. Where Season 1 dealt with the secret realities of people suffering from mental illnesses, it appears Season 2 will focus on the difficult process of recovery. Whether that recovery theme has to do with recovering from attempted suicide, recovering from sexual assault, or coping with the loss of someone to suicide, I'm sure it will play a poignant role in telling an important story.