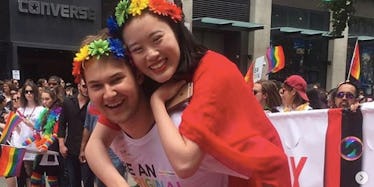 The Cast Of '13 Reasons Why' Celebrated Pride And The Pics Are Everything
Instagram
Anybody with an active pulse has probably heard about the controversial nature of one of this year's Netflix original series, 13 Reasons Why.
The show itself wrestles with the triggering subjects of bullying and suicide and uses one character's (Courtney) fear that people will find out she's gay as a major plot detail in the first season. Overall, it can be said the show uses these themes to make a statement about acceptance and compassion.
Well, as we near the end of Pride month, it seems as if the cast members of 13 Reasons Why have made their own stances on acceptance perfectly clear. That's right, during the San Francisco Pride parade, Michele Selene Ang (who plays Courtney) uploaded a picture of the cast celebrating in The City By The Bay to her Instagram to let us all know their position on equality:
Ang captioned the pic with a quote by Obama: "When all Americans are treated as equal, no matter who they are or whom they love, we are all more free," followed by a sentiment of her own: "Filled with #pride to march for our LGBTQ brothers and sisters, for love-in my hometown!"
Ang's castmates from the show followed suit, uploading their own pics in support of Pride. Alisha Boe, who plays Jessica, said: "HAPPY PRIDE waddup San Fran."
And Christian Navarro, AKA Tony Padilla, said, "@netflix@13reasonswhy I'm so very proud to be apart of such an important, inclusive, diverse, and dynamic cast. We truly love being able to stand with our #lgbtq community in unity and strength. We love you. I love you. Today is yours."
Katherine Langford, who plays Hannah on the show, wrote "PRIDE Wishing everyone a beautiful and safe day, full of love. Thankyou to everyone who came out this weekend, and to those who continually support the community. May we continue to support and fight for those who are marginalised."
And Justin Prentice, who plays Bryce, neatly summed up what Pride month is all about in his caption, "Love is for everyone. #pride."
It's nice and inspiring to see these celebrities echoing the sentiments of their show in their real lives. After all, their message rings loud and clear in these photos: Love is love, and equality is for everyone.