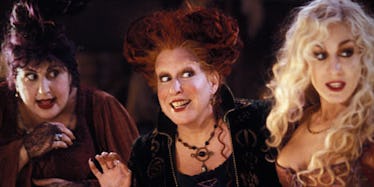 Cancel Your Plans: '13 Days Of Halloween' Starts Tonight And The Lineup Is Epic
Walt Disney Pictures
"H, A, DOUBLE L, O, W, DOUBLE E, N... SPELLS HALLOWEEN!"
Oh, come on, I know someone's heard that little jingle before.
I learned how to spell Halloween from my third-grade chorus teacher who made us sing this song every day for the month of October.
He'd make us take our recorders out and scream this shit in his face. I can never thank you enough for that, Mr. Smith!
Halloween is my favorite time of year for a multitude of reasons. One, I can wear a mask over my face so boys at the bar don't know I'm ugly.
Two, pumpkins. Three, HALLOWEEN MOVIE MARATHONS.
Yup, yup. I love spending my Friday nights curled up in bed with a bottle of wine and plate of lasagna watching Halloween movies by myself. It's much better than socializing, am I right?
WELL GUYS, if you're excited for Halloween as much as I am, then guess what? FREEFORM'S "13 DAYS OF HALLOWEEN" IS HERE!
OH YA, OH YA. Freeform is sharing its best family-friendly movies to get you pumped for the holiday.
It's airing everything from "Hocus Pocus" to "The Addams Family," so mark your calendars and grab a glass of wine.
The full schedule is below, but if you miss one, have no fear. Freeform will play the movies on repeat until October 31, so make sure you knock them all off your list!
Happy Halloween, everybody! Have a boo-tiful day.
Haha, get it? BOO-tiful. Like ghosts... they say "BOO!"
No need to roast me, I just got fired.
Wednesday, October 19
5:30 pm: "The Nightmare Before Christmas" 7 pm: "RL Stine's Monsterville: Cabinet of Souls" 9 pm: "Hocus Pocus" 12 am: "Corpse Bride"
Thursday, October 20
3:30 pm: "The Nightmare Before Christmas" 5 pm: "Hocus Pocus" 7 pm: "The Addams Family" 9 pm: "Addams Family Values" 12 am: "The Final Girls"
Friday, October 21
4:30 pm.: "The Addams Family" 6:30 pm: "Addams Family Values" 8:30 pm: "Sleepy Hollow" 12 am: "Frankenweenie"
Citations: Freeform "13 Nights Of Halloween" (E Online)