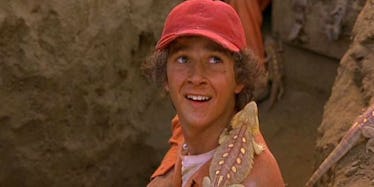 'Holes' Is Coming To Netflix Next Month So Start Practicing Your "Armpit" Rap
Disney/YouTube
*Disclaimer: The full list of titles coming to Netflix this August will be available on Monday, July 24. Until then, I hope this holds you over.*
Every day it seems like there is something new and exciting to stream online, and today is no exception. As we head closer to August, we'll be getting a whole bunch of new movies and original series on Netflix, and I'm pleased to announce that Holes will be one of them.
That's right, the movie that taught you how to make music with your armpits is being added to Netflix's roster in August, and I, for one, am pumped.
You may remember Holes as the best young adult novel you ever read, the best movie you ever got to watch in school, or just as Shia LeBeouf's best acting job before he went kinda bananas and started wearing brown paper bags on his head. (You might also remember how shook you were when you realized that "Stanley Yelnats" spelled backwards is still "Stanley Yelnats," but that's a whole other article.)
One way or the other, it's about time this classic found its way to a streaming service. There's zero reason this gem shouldn't be readily available to the general public* (*paying Netflix customers and their ex's who somehow still have the password to their accounts), and now it will be.
While it seems like the first of the month is a long time to wait to relive the drama of Holes, it'll be here before you know it and you'll finally be able to pack your bags and revisit Camp Green Lake with Shia and the rest of the crew.
Until then, though, there's still a bunch of other exciting stuff on the service like Disney's latest animated musical Moana and the new Netflix original series GLOW to tide you over. They may not a classics just yet, but they will certainly do for now.