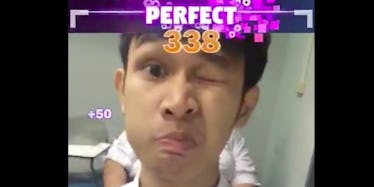 Face Dance App Is Basically DDR For Your Face, And It's Freaking Hysterical
Get ready to clapback at anyone who has ever given you a hard time about how much time you spend making Snapchat selfie videos because it is about to pay off big time. There is a new app in town that will require you to have the most refined of selfie skills in order score points. I gave it a go and playing the game is definitely a good time, but if you're just looking for a chuckle, then check out some videos from the FaceDance app.
According to Mashable, this music facial recognition based game is going viral across Asia because of its seriously ridiculous gameplay videos. The gist of the game is to basically become a human emoji as you bop along to whatever song you choose. As the music plays, different emoji-like faces pop up on the screen and your job is to replicate them as best as you can in order to score major points.
Vietnam-based DiffCat Game Studio is the company behind the app and its CEO Giang Nguyen was shocked when he saw all the videos that surfaced as the #FaceDanceChallenge took off on Twitter. He initially created the app because he knew that nothing like it existed. By the looks of the videos its spurred, I think you'd agree that we have Nguyen to thank for gifting the internet with this newest viral challenge.
Forget whatever class this kid is in. He needs step to the front of the room and teach a masterclass on how to rule Face Dance.
This selfie star doesn't even need to play his whole video to prove that he's pretty much killing the damn game when it comes to face dancing.
Don't let the pigtails fool you. This girl is here to compete.
That hair flip at the end, though.
Some slow-mo action to show off the precision of his skills.
I wouldn't be surprised if this girl was an emoji in a previous life.
Seriously, bow down to this fierce competitor -- perfect indeed.
I just had to see if I was secretly an expert face dancer. I think I'm still in the novice category.