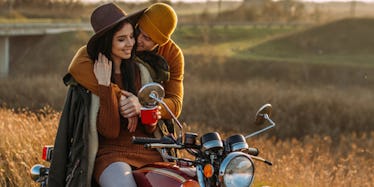 What Your Zodiac Signs Says About Your Shot At Finding Love This Fall
For many of us, fall is a time to embrace new beginnings, whether that means starting a rad hobby you're passionate about or going after a sexy crush who's on your mind.
It also happens to be a super romantic time. Hence, cuffing season, peeps.
That's why I'm encouraging all of us to be open-minded and go for what we want this season — especially when it comes to finding love. If you don't put yourself out there and embrace something when it's right in front of you, you may miss out on your shot. And where's the fun in that?
But, because we're all so different personality and astrology wise, here's what your zodiac sign says about how, when, and where you may find love this fall:
Aquarius
A major key to winning over an Aquarius is striking up compelling conversation. The Aquarius can't help but find this as super attractive in a partner.
The Aquarius woman should switch up her daily routine this fall. Be open to getting involved in new activities and checking out new places. Go to a different coffee shop for your morning dose of caffeine. You'll never know what hottie you may strike up a convo with there!
Whether it's hitting up a different bar scene or signing up for a fun cooking class, the possibilities are endless — and positive vibes are bound to walk into your love life.
Pisces
Pisces are infamous for being complete and utter ~hopeless~ romantics. I can't say I blame them one bit… who doesn't want their very own fairytale ending?
When work stress comes your way this season, do something positive for yourself. Start going to the gym to blow off some steam. Your prince charming may possibly be chilling there lifting weights. He may even be teaching that kickboxing class you've always wanted to take.
Aries
When it comes to love, the Aries woman is a passionate flirt and doesn't hold back when she's attracted to someone. She knows what she wants and confidently goes after it in all aspects of her life… it's just how she rolls.
This fall, as the leaves change, don't let your focus change in response to an old flame who's throwing you off your game.
Instead, focus on a new love interest this fall. Make the first move and ask him out for a fun weekend day date.
Keep your eye on the ball, Aries… you've got this, girlfriend.
Taurus
The Taurus is extremely sensuous and values "touch."
Knowing this, I say… get a massage! Give a massage. Book a facial, and while you're at the spa, strike up a convo with that sexy masseuse.
Or, introduce yourself to that hottie walking his dog you always see on your morning run… and pet that little fluffy guy to show you're very passionate about pets.
Gemini
The Gemini woman thrives off of being challenged on an intellectual level. You love to retreat to your favorite cafe where you can be found enjoying an awesome book or magazine over a cup of coffee.
I know that book is good, girl, but don't get too involved in your reading to the point where you're completely oblivious to that guy who's been admiring you from across the room. Take a look at your surroundings because there's a lot of ~handsome~ people to see who are looking right back at you.
That being said, the Gemini gal shouldn't feel pressured to jump into a relationship too quickly this season. It's OK to take your time and sit back before taking things to the next level.
Cancer
This fall brings much change for my Cancers. If you're already in a relationship, you may decide to break things off with your current SO.
Or, you may even have another person walk into your life unexpectedly who you're compatible with.
Although breakups are extremely difficult, we cannot control what is meant to be, even if we think it may be what's best at the time.
Whatever the weather may bring, focus on positive change in your life, my Cancer girls.
This fall may not be your time for romance, and that's totally OK. Whether it's taking a fun trip with the squad, signing up for a yoga class, or taking on a new hobby, it's YOU time.
Leo
The Leo exudes so much passion and energy when it comes to her love life.
This fall, don't turn in the opposite direction at plagued relationships, but instead focus your energy on being the strong and assured woman we all know you are and embrace the season with open arms.
Channel your mind, body and spirit with yoga classes, or treat yourself to new activewear, then try different class locations and meet new guys in your classes. They'll find that positive energy super attractive.
Passion. Energy. Namaste.
Virgo
Virgos yearn to feel like they're a special part of their partner's world. Some of my Virgos may have recently gotten out of a relationship because they were not feeling like an integral part of their partner's life.
If there is someone new you are destined to meet this season, Virgos, the opportunity may be waiting for you in new social situations where twosomes sometimes participate together. That's how so many good relationship begins, right?
So, consider taking a wine tasting or dance class. Being around others will help you realize if you want to repair broken bridges from a past relationship, or if it might be time to start fresh with the new guy you meet this month.
Libra
From your incredible personality to being extremely devoted to a mate, you make for an awesome partner, Libra.
You should walk outside each day this fall living in the moment. Heck, be spontaneous and take a vacation — whether it's a weekend getaway to a winery in the Hamptons or taking a week off to soak up the sun in Hawaii.
Your shot at love awaits you on these adventures. Ah, there's something so exciting about vacation romance...
Scorpio
The Scorpio gal is all about experimenting when it comes to that online dating lifestyle and trying out new trending dating apps. It's fun, right?
This fall is your time for love, Scorpios, as the season will bring really exciting, new surprises when it comes to the online dating sphere.
Keep swiping and GET IT, girls! There are some really awesome love potentials (and really romantic dates) that await. This season is all about you, and your love life will thrive.
Sagittarius
No matter the relationship, the Sagittarius girl certainly brings fun to the table. She's all about having a good time.
You're also keen on jumping to conclusions about the people surrounding you, which may actually coming in handy.
Focus on what your inner self is trying to tell you about the guys you meet this season when you're at out at the bars with friends. Your keen intuition will not steer you wrong. If you're drawn to someone who is "not your type," just trust yourself and have fun with it.
Overall, you won't overanalyze relationships like you usually do this season — and that's a good thing!
Capricorn
OK, Capricorns… it seems this fall is looking very steamy for your sex life. Your sex drive is going to be amped up to the max with new guys you meet this season.
But don't lose sight of your integrity along the way. It's really important to take that into consideration before you pounce when a new prospect comes into your life.
If you move too fast with him, you may ruin other potential relationships. So, take things slow and enjoy them when you meet that special someone at a concert or art gallery this month.
Keep your standards close to heart and good things will come your way.