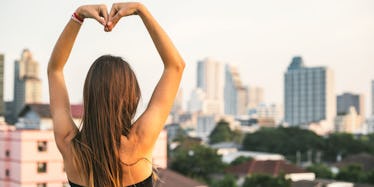 Science Of Hook-Up Culture: Cities With More Women Are Less Monogamous
Do you feel like you're always looking for love in all the wrong places?
Well, you can be if you happen to live in certain cities.
According to Wallet Hub, these 10 cities rank the highest among the worst for singles:
1. Yonkers, New York
2. Hialeah, Florida
3. North Las Vegas, Nevada
4. Brownsville, Texas
5. Peoria, Arizona
6. Jersey City, New Jersey
7. New York City, New York
8. Philadelphia, Pennsylvania
9. Glendale, California
10. Mobile, Alabama
It's incredibly easy to blame the failings of love and romance on the hook-up culture and current surplus of dating apps, but it simply comes down to a game of numbers.
Many Millennials believe dating apps give a false representation of a surplus of women, and men seem to be on the winning side.
According to Jon Birger's book, "Date-onomics: How Dating Became A Lopsided Numbers Game," this preconceived notion is actually very true.
To put it bluntly, the Millennial male is definitely winning. The dating pool has four women to every three men.
Education has a lot to do with this ratio, too.
In 2012, 34 percent more women than men graduated from American colleges. By 2023, the US Department of Education predicts this number will reach 47 percent.
The Washington Post reports the hook-up culture tends to intensify in college environments, where there are more females than males. However, in colleges where there are more men than women, traditional relationships are pursued.
This makes sense, considering very few men would consider "settling down" if they could have multiple partners.
The Washington Post finds Georgia Tech, a college that is 66 percent male, to be "a fairly monogamous campus."  It goes on to explain dating at James Madison, a college that is 63 percent female, is "a scene that tends to embrace random hookups."
The ratio of college women to college men isn't the only reason dating has become increasingly difficult.
Women are also very unlikely to date men who haven't graduated from college.
This leaves both the uneducated men and educated women in a tough situation, given the Census Bureau's American Community Survey found there are about 5.5 million women and 4.1 million men among college-educated adults between the ages of 22 and 29 in the US.
An academic study backs up this statement by finding well-educated people are increasingly marrying other well-educated people, while those with less education are choosing partners with the same level of education.
This, in turn, is also causing a big inequality of income, since in theory, those with better education make more money.
The point is this: If you are a straight male who is college-educated, you have your pick of the cream of the crop when it comes to dating. You are scarce, and you are wanted.
For the rest of you, hope is not lost.
You will not be forever alone. There are plenty of places you can go to find love, but you just might have to move.
The Washington Post reports the best cities for dating, based on college graduates between the ages of 22 and 29, are the following:
For Women
1. San Jose, California (112 men per 100 women)
2. San Francisco, California (104 men per 100 women)
3. Columbus, Ohio (93 men per 100 women)
4. San Diego, California (91 men per 100 women)
5. Atlanta, Georgia (90 men per 100 women)
6. Seattle, Washington (89 men per 100 women)
7. While Plains, New York (88 men per 100 women)
8. Oakland, California (87 men per 100 women)
9. Orlando, Florida (86 men per 100 women)
10. Fairfax, Virginia (80 men per 100 women)
For Men
1. Fort Lauderdale, Florida (171 women per 100 men)
2. Providence, Rhode Island (160 women per 100 men)
3. Portland, Oregon (156 women per 100 men)
4. San Bernadino, California (154 women per 100 men)
5. Houston, Texas (152 women per 100 men)
6. Memphis, Texas (146 women per 100 men)
7. Tampa Bay, Florida (144 women per 100 men)
8. Minneapolis, Minnesota (143 women per 100 men)
9. Phoenix, Arizona (142 women per 100 men)
10. Raleigh, North Carolina (141 women per 100 men)