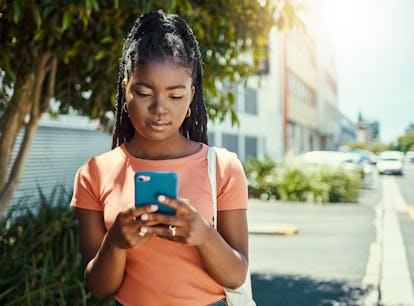 People Are Posting Their Worst Breakup Texts On TikTok And Ouch
Delmaine Donson/E+/Getty Images
Breaking up over text is a huge dating faux pas, but that doesn't mean that it never happens. In fact, breakup texts are sent all too often. At best, they're awkward. At worst, however, these texts can be spiteful, mean-spirited, and almost enough to make you want to give up on finding love altogether. (And that's not even an exaggeration.) Recently, people have been sharing their worst breakup texts on TikTok — and even though I'm not on the receiving end of these brutal messages, I'm second-hand hurt for those who have gotten them.
There's a range to these breakup texts — from a simple "nahhh" to a corporate-sounding farewell — but all of them are brutal. TBH, even the nice breakup texts are frowned upon. "I cringe every time I hear that someone got dumped in a text," online dating expert Julie Spira previously told Elite Daily. "It's a 'drive-by breakup,' and if someone doesn't see it coming, it can be devastating for the person on the receiving end."
And that's the best-case scenario. For these TikToks, it's even worse. In these videos, it seems like people have a hard time toeing the line between being honest and being cruel. (Who knew that'd be such a tough distinction to make?)
In no particular order, here are 10 of the worst breakup texts on TikTok. But be warned, you might never look at your phone the same way again.
Take these TikToks as your sign to skip the breakup text, have the conversation in person, and keep the word "repulse" out of it.
Expert:
Julie Spira, dating expert