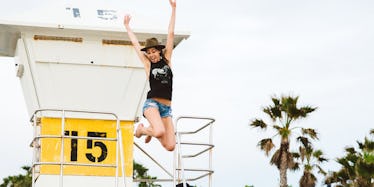 Why Woman Find Perfect Partners And Men Are Shallow Pigs
Stocksy
Men and women have much in common- they usually both have two legs, two arms, a head, etc.… In spite of all these incredible similarities, the differences seem to be even more abundant.
The hobbies and activities that either sex tend to enjoy, their view of life, what they believe their purpose to be, how they believe they ought to act/live- all vary greatly between the sexes.
One of the biggest differences is the way that either sex goes about finding themselves mates. Women have a very well structured and precise methodology when it comes to finding a man for themselves. It is so fine tuned that you could say they have it down to a science.
Is he successful? Is he kind? Will he treat me well? Will he be a good father? Is he handsome? Is he smart? The questions go on and on. Men, on the other hand, have a much simpler filtering process: Is she hot? Does she look like a good fuck? Does she swallow?
Okay, so it may not be that simple- but the truth is that men are much more shallow when it comes to finding themselves a partner than women are. It all stems from the fact that men live their lives as lone wolves. We (men) are all extraordinarily egocentric and mainly focus on our wants and needs.
While women inevitably feel the need to settle down and reproduce- focusing on their husband, kids, and family in general- men will continue to pursue their own personal goals and aspirations.
This does not mean that they don't care or love their family; they just love them differently. This difference in the way of loving, and the egocentric nature of males, leads to women focusing on finding men that they believe will be able to provide for them and their children, and to men finding themselves a woman that they know will firstly satisfy him sexually and only then, someone who can satisfy him emotionally and take care of his children.
Because men already know that the focus of their lives will be their egos, men only focus on the woman's attributes that will please them- her curves, the lengthiness of her limbs and neck, her green eyes, her long hair that will work as the perfect reins, her lips that will wrap perfectly around his… Men don't need to focus quite as much on a woman's maternal abilities because, generally, most women have the ability of being great mothers.
It's part of their nature. Just about all women, after they give birth, feel a natural connection with their child and would literally do just about anything to protect them and raise them well. Men, unfortunately, don't all have this natural inclination.
There are men that become great fathers, but there are also men that would have done the world a great deed by getting a vasectomy at their own birth. Women know that not all men will be able to raise their children the way a father should- so they put men through the afore mentioned grilling and screening process.
All that men can do is find themselves a woman that they love to look at, touch, and be touched by- hoping to make it through months of her douchebag screening tests. It works. Why mess with it?
Paul Hudson | Elite.