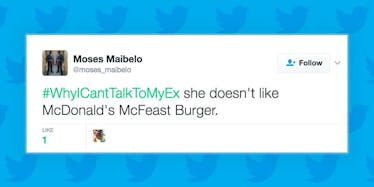 30 Tweets About Not Talking To Exes That Are Seriously Way Too Relatable
Twitter
People on Twitter are going crazy sharing exactly why they don't talk to their exes anymore.
Some never had exes. Some would talk to their exes if they didn't, you know, have restraining orders getting in the way.
Some can't talk to their exes because they were literally the devil. Some can't talk to their exes because they're dead to them.
And then there was the girl who set her ex's car on fire then proceeded to boink his brother. So... that's why she can't talk to her ex.
Read along with the hashtag #WhyICantTalkToMyEx, which is filled with people who are SO TOTALLY OVER THEIR EXES that they're taking time out of their days to tell social media why they don't talk to them.
These people don't even have exes to talk to.
That's true!
Ummm... can someone check on this guy? I'm worried.
Simple, to the point. I respect it.
She's so far from having one.
So... can we all agree this girl is the living worst?
These people would talk to their exes if it wasn't for those pesky little restraining orders!
Yep, probably a fair reason to not talk to her.
Thank you so much for the details of your restraining order, @JakeDaleyy!
Yeah, I'm sure it was just a "little misunderstanding."
Anyone else wondering why his restraining order is printed on pink paper? Like, was it issued by Elle Woods?!
Really? ...That's the smiley you're going with?
These people's exes might want to look into restraining orders if they don't already have them.
What does going "ape shit" entail? Enlighten me, please. Or don't. Yeah, maybe just don't.
Would it be a "hella good time," though?!
Can we highlight here that her fear is not killing him but, instead, going to jail for doing so?!
Please don't.
These people can't speak to their exes because they're the devil, DUH!
Sounds scary.
Well, didn't you mess with the devil when you dated and presumably porked him...?
I really hope this person is dating someone new who has him brainwashed enough to literally refer to her as God.
Ugh, that language barrier will get ya.
Really going to start figuring out ways to work #SheDevil into more of my tweets.
These people have long since buried their exes in the mental graveyard.
Who's this guy drinking the champagne supposed to be? Is that you celebrating your ex's death? OR is it your ex partying in heaven (or hell)? LMK.
OMG, see what she did with that Ouija board joke?! BAZINGA.
Nice, simple, to the point.
These people don't spare us from any of the (very) juicy deets.
I wonder if the best friend became an "ex best friend" before or after she sucked his "cock."
Yeah, I could see how that might get in the way of him wanting to chat.
Is that even, like, possible?
DESPERATELY in need of some context here.
...Then there were these people who had some unique problems.
Well, that was just rude. HOW THE F DOES HE EXPECT HER TO CRAFT?!
They clearly had nothing in common.
Ew.
LEGEND.
Can I just go on record here saying if you feel the need to tweet about exactly why you can't talk to your ex, MAYBE you have some unresolved issues that you should be talking to them about?
Unless you have a restraining order. Then don't talk to them.