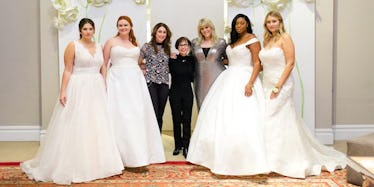 This Wedding Dress Designer Is Now Adding Sizes 16-20 To Her Sample Sizes
Willett Photography
American bridal designer Anne Barge is CHANGING THE BRIDAL FASHION GAME with her new Curve Couture Campaign.
If you're like me and have literally no idea what goes on in the world of bridal fashion and why this is a big deal, allow me to break it down for you.
Typically, sample wedding dress sizes at bridal stores and trunk shows vary only between sizes 4 and 8.
However, Anne Barge Curve Couture, a new trunk show, will begin offering sizes 16 to 20 to give EVERY bride-to-be a chance to feel fabulous when she goes dress shopping for her special day.
The company's president Shawne Jacobs explained that this campaign came as a response to retailers across the country seeking "high-end bridal couture" in sizes 16 to 20 for their customers.
And Anne Barge's Curve Couture campaign is their fearlessly fly solution to the problem.
The high-end couture line consists of 15 of their best-selling wedding gown styles, priced from $2,000 to $7,000 (yeah... start saving, ladies) and featuring dresses from both past and current collections.
Barge hosted a reception a couple of weeks ago at Kleinfeld Bridal (you know them from "Say Yes to the Dress") to celebrate the new line, and Mara Urshel, the store's co-owner, explained her excitement for the release,
For years, Kleinfeld has fearlessly committed to expanding our offerings in the plus size category. We are thrilled to be congratulating Anne Barge and Shawne Jacobs tonight in this exciting time of brand growth and we are looking forward to a successful trunk show this weekend.
I got to go to the reception (so cool, I KNOW), and I've got to say, these ladies looked just as bangin' in real life as they do in these flawless photos. (Is "bangin'" an appropriate way to describe a bride-to-be? LMK.)
Obviously, this is just one bridal couture line of many, and there's still plenty of work to be done, not only in bridal fashion but in the fashion industry in general, when it comes to embracing women of all different shapes and sizes.
But I'd say this is a huge step forward for the bridal fashion industry and the beginning of something really, really great.