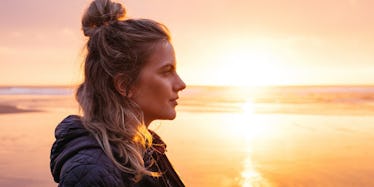 Here's Why You Should Volunteer After A Breakup If You Live In Los Angeles
There's nothing like a breakup to remind you life is filled with high highs and low lows.
We remember things we value; we realize the things we don't have anymore, and we look forward to a future that holds something new, different and better.
As you come to terms with your emotions and move on, volunteering can help you get to a good place sooner, rather than later – especially if you live in the Los Angeles area.
It will tickle your fancy.
Volunteering shouldn't be a chore. There are a million opportunities out there, so you should do something you'll enjoy.
Traditional opportunities like serving food at a homeless shelter are great, but if they're not your vibe, why not try something more your style?
Want to cuddle? There are tons of opportunities that involve furry friends, especially in the LA area, like the Kitty Bungalow Charm School for Cats, Rabbitat Wednesday at PetSave Foundation and AHEAD with Horses, where you can introduce challenged kids to the therapeutic benefits of horses.
It will boost your self-confidence.
You have a lot to give; don't let your breakup convince you otherwise.
You can contribute to the well-being of people less fortunate. Volunteering will remind you of what you're good at and how you can make a difference.
Remember how you used to crush ceramics class in high school? Yeah, well, now you're stronger and can probably center that clay without breaking a sweat, so teach someone how to do it with CreateNow!
Those improv classes you took to pursue your dream of an acting career? Help bring a child's story to life with Young Storytellers.
You'll meet new people in a genuine way.
People who volunteer are optimistic, engaged in their community and have strong values. Beyond being wonderful attributes to cultivate in yourself, aren't they attractive in others?
The Golden app helps you be your genuine self, in the context of volunteering, where you can meet new people through shared hobbies, interests and values. There's no easier way to do something you'd otherwise be doing for fun in a way that benefits others.
Volunteers are vivacious and sexy; don't just seek them out, be one.
Volunteering will get you back into good habits.
Volunteering is an easy habit to keep, but can seem like a daunting one to start. To trick yourself into getting over that mental hump, use volunteering as an opportunity to get outside.
Try the Grapefruit Harvest in Echo Park with Food Forward. Want to stay fit? The AIDS Project Los Angeles Food Drive can involve heavy lifting (if you so desire), so you can get your reps in.
If the opportunity is a good fit, you'll look forward to it as part of your routine.
You'll learn to empathize and love more.
Connecting with others is easy, especially if they're like you.
If you look around at your friends, how many of them look like you, talk like you or went to your school? There's nothing wrong with that; it's natural to seek out friends who are similar.
But empathy, the ability to place yourself in someone else's shoes, is really tested when you're interacting with people who are different.
#HashtagLunchbag is a great opportunity to test your ability to empathize with someone who is very different, who went to a different school, is from another country, is of another race and faces challenges different from yours.
You'll learn a lot, and the ability to understand them will serve you in, literally, thousands of situations throughout your life: work, dating, travel and being a member of an increasingly diverse city.
Why not make new memories?
One of the most difficult parts of a breakup can be carving up turf. Who gets to keep which friends, which hangouts and which sources of inspiration?
You can get beyond that zero-sum game by creating new memories in new places and discovering new passions in the process.
After the first time I visited Inner-City Arts' campus, DTLA took on a whole new meaning for me that remains every time I pass through, and reminds me to participate in more philanthropic activities.
Work on the things you'd like to improve.
Breakups often reveal harsh truths. Though we convince ourselves the other person was at fault, that's rarely the whole story.
Time, distance and experience give us the benefit of hindsight and help us reflect on the things we could have done better. Volunteering helps you work on them.
For example, did your ex accuse you of putting your interests first? Maybe it's worth helping out with mock college interviews at one of the Green Dot Schools and giving your time freely to someone else.
Did you always get to choose the movie, the trip or the restaurant? Do something outside your expertise, and learn to repair wheelchairs with Wheels for Humanity.
We'll all learn to mature on our own terms.
Relationships are one of those sometimes-painful-but-absolutely-necessary parts of growing up. Caring about someone else to the point that it hurts, holding down a job we sometimes resent, paying bills that seem unfair: It's all miserable… sometimes.
But is there a better feeling than holding someone you love? Or bringing home your hard-earned paycheck? Or coming home to a house that's warm because you paid for it?
Growing up is bittersweet, but more sweet than bitter.
Volunteering nurtures all the best parts: building trust with people you care for, leading and putting your talents to good use for the benefit of the community.
This post was originally written by Sam Fankuchen for Golden.