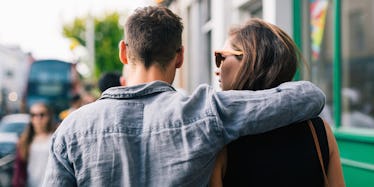 We Met At Whole Foods: 5 Unlikely, Unromantic Places People Find Love
There is that specific breed of girl who thrives wildly within the magnetic context of a nightclub.
The twinkling, mega sparkle of a strobe light seems to hit her face in just the right way, as her body effortlessly bends itself in perfect time with the hectic hypnosis of a techno beat.
While some girls comfortably swim in the turbulent tides of the club, others (like me) tragically sink, finding ourselves fallen on the dance floor, trying to stave off bruises as we get stepped on by a fervent stampede of stilettos.
So if you're blossoming in the bloom of your youth and are ravenous for a taste of love, sex and dinner dates but detest the dizzying alternate universe of the nightclub -- where do you go to find a potential partner?
One might suggest Tinder or online dating sites -- but what if you find them to be cold, free of genuine soul? What if you're craving human interaction in this digital age of isolation?
Are you simply f*cked? Has the species of girl who finds herself ignited by the flames of conversation and the heat of romance simply been snuffed out by the toxic smoke of smartphones and club rats?
No. Before you throw up your hands and resign to living a perpetually solitary life — let me provide you with a bright beacon of light in the darkness that is your mind.
There, amidst the dismal clouds of tragic Tinder profiles and nightlife mayhem, exists a shining beam of hope, sunny rays of promise for a better life.
Because there is actually a plethora of young, gorgeous, likeminded lovers bearing brains -- you just have to venture to creative places to seek them out:
1. Comedy Clubs
A comedy club is, surprisingly, an amazing place in which to meet a mate.
A comedy club that is small and intimate is favorable to a massive venue.
Don't worry about spending your hard-earned funds on your favorite stand-up superstar — find a free open-mic night at a local dive comedy club.
Not only will you be amazed at the vast array of fresh talent in your city -- you will also find nothing creates a more fun-loving, unabashedly free, open environment like a group of humans laughing in unison.
Shared humor will create an instantaneous bond, connecting you to every person in the room.
Laughter is an even better social lubricant than booze -- I promise.
Whether the comedy was incredible or embarrassingly awful is irrelevant -- you now have an instant icebreaker, an ever-available match in which to strike up the fire of conversation.
What to say: "So... what did you think of [insert unknown comic's name here]?"
2. The High-End Grocery Store
The way in which a person eats says everything about his or her personality. I believe people who are willing to invest in their food are willing to invest in themselves.
Food is sensual. Food is sex. A person who has a keen taste for fine olive oils and exotic nut butters and fresh wild salmon is going to be a more exquisitely sexual force of nature than a person who merely eats for the sole purpose of survival.
The high-end grocery store (think Whole Foods or the local gourmet equivalent) will hold court to a kingdom of sophisticated men and women who have their sh*t together.
The boring drones are weeded out of the high-end grocery store because boring drones don't understand the pressing sensuality of fine foods.
It's also the premier venue in which to flirt.
It's easy to make conversation, as foodies love to be asked culinary questions.
What to say: "Can you recommend a seasoning for lump crab?"
3. Charity Events And Nonprofit Mixers
You will be amazed how many charities throw a slew of inexpensive annual events targeted toward young, intelligent people like you.
Charities and nonprofits are intensely smart; they realize they need to engage their potential donors.
Dutifully research your favorite local charity, and I guarantee you will find a donation-based after-work mixer or a fun cash-bar party in your price range.
Don't be intimidated by the glamorous galas you see in the society pages, for there is a beautifully happy medium in existence.
This is not only a great place to find a potential person to date — but to find LOVE.
You will be with a group of people who deeply care about the same issues you do, and people who don't just talk up a big story — but are active members of the community and doing their part to better the world.
I guarantee you will find an interesting, dynamic pool of people with brains and hearts (rare in this day and age).
What to say: "I support the Humane Society because I'm committed to the ethical and humane treatment of all animals across the world. Because I believe it is the fundamental right of every dog to have a stable and loving place to call home."
4. Independent Film Screenings Accompanied By Q&As
The time has come to march down to your local little indie movie theater and attend a screening.
If you do your homework and seek out small, creative movie theaters in your city, you will find they almost always have monthly screening events of some sort of avant-garde film gem, followed by a guided group discussion led by a cinema intellect or unknown actress.
If you're not a club person, chances are you're a movie person, like me. See, while some girls sparkle under disco ball glitter, we sparkle in this type of cerebral environment.
Any nerves you're feeling will be instantly smashed by the soaring waves of joy you will experience from a night of film and intellectual fulfillment.
Think of all the likeminded people who will be in attendance! It will be a room full of people who value culture over crop tops (or even the sexy combo of culture and crop tops).
The best part is you can display your best self when geeking out in the guided group discussion by asking a plethora of pre-rehearsed, thought-provoking questions!
What to say: "So what do you think the director is really trying to say..?"
5. Hotel Lobby Bars
Don't think I'm letting you down by the suggestion of a bar. I can hear you cry, "But, I never meet anyone at bars!"— slow your roll, sister.
A hotel bar is very, very different than a frat bar or a trashy nightclub.
For starters, the service is superb, and the atmosphere is rich with an attractive aura of civility. And here comes the best part: You will meet the guests, all of whom are traveling.
And we all know those who seek adventure make for the best lovers.
Travelers are more cultured individuals, and culture is synonymous with sexy.
Plus, anyone who has arranged a trip has his or her sh*t together or has a cool job that allows him or her to travel.
Get dressed up in a sophisticated wrap dress, order a martini and mingle with the masses at the bar.
You can serve as the cultural guide to the city, providing the eager men and women seated at the bar with your unique local perspective.
Yes, everyone will be from out of town — but doesn't that make your impending hot affair just that much more romantic?
Sisterly Tip: Just don't go to the hotel bar past 10 pm. People will think you're an escort.
What to say: "So what brings you to town..?"