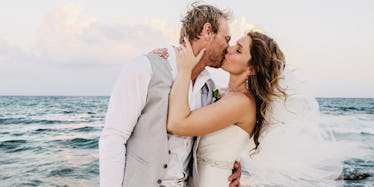 Why Tying The Knot On A Tuesday At City Hall Made The Perfect Wedding
I've been to all of your weddings. I've sat in the front, teary-eyed and hopeful that eternal love isn't a myth, like a unicorn or something.
I've also sat in the back row, secretly swigging bourbon from my flask and cynically questioning your motives. I've visited many old Southern homes, barns and beautiful backyards.
I've been the guest; I've been the bridesmaid; I've been the reverend — yes, someone actually let me do that.
Your weddings were perfect. You were beautiful.
Your fondue fountains paired perfectly with your shrimp kebabs and open bars. You will likely never forget that day, but frankly, I probably will.
Please don't be offended. Weddings mean different things to everyone.
Personally, for me, the thought of hundreds of people staring at me while I try to breathe in a corset and look perfect in a white dress brings on extreme nausea and hyperventilation.
I'm married, too. I married a man I met when he was a boy. We grew up together. We have helped each other, hurt each other, driven each other crazy and kept each other sane.
We are not the subject of one of Walt Disney's fairytales. We are real and imperfect. We don't own a magic carpet, and I would certainly break my ankle in a glass slipper.
But, despite our scars and our imperfections, we still have a deep, imperfect love for one another.
He is my obsessive compulsive prince charming, and I am his very own version of a foul-mouthed, frizzy-haired princess.
We got married on a Tuesday morning.
There was no white dress, no horse and carriage. There was no photo booth filled with props or burlap table runners sprinkled with rose petals, no kebabs or fondue.
There were no programs you would later throw away filled with the names of a wedding party you would later forget.
There was nothing borrowed or blue, old or new. There was a man in overalls and a mom taking her kids to visit the Maury County courthouse on a Tuesday morning.
There was my husband wearing an old suit a size too small, my biker dad in a pale pink tie and me in an off-white, $20 dress (also a size too small). And there was Bob in his overalls.
Bob married us in front of my dad and a local family of strangers on that Tuesday morning.
That day, there was no need to profess our love in front of hundreds of casual acquaintances and distant cousins.
There was no need to tell everyone else how we felt, or what we had been through together.
There were no scripted speeches or choreographed dances, no chandeliers or champagne fountains.
There was just me and him, and my dad and Bob in his overalls.
What mattered to us was not the rows of guests that weren't sitting behind us, not the expensive pictures that weren't taken or the dances that weren't danced.
What mattered was what was in front of us: a guy with quirks, a girl with complications, both addicted to the deep imperfect love we shared.
What mattered is what we promised each other: a future filled with endless love and a handful of tolerance.
What mattered was we were promising each other to finish what we had started so many years ago, a promise of our own imperfect versions of our own happily ever afters.
There was no sense of urgency to validate our impulsiveness. There was no need to make anyone else understand we were the only two people in the world who truly understood each other. No apologies and no regrets.
Real love doesn't make apologies. It doesn't have regrets, and it doesn't need validation.
For me, real love is just two imperfect people promising each other an imperfect life, filled with imperfect love on a perfect Tuesday morning.