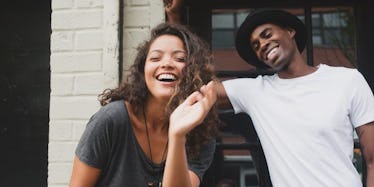 14 Tweets About Having A Crush That Prove We're So Freaking Thirsty
I think having a crush most accurately can be described as a uniquely painful form of joy.
Yeah, yeah, yeah, I WAS AN ENGLISH MAJOR. I know that "joy" isn't typically "painful." But hear me out.
Anyone who's ever had a crush can attest to the fact that crushes are, more often than not, slight bouts of joy immediately followed by immensely awkward pain.
For example, you're joyfully scrolling through your crush's Instagram, until you accidentally like a picture of his ex-girlfriend from four years ago, and you suddenly want to delete your account and flee the country.
Or you're on cloud nine, smiling like an idiot at your phone, while you rapidly text back and forth with him... until he stops responding, and you suddenly want to burst into tears.
What about when you can literally feel your heart about to burst through your chest with joy as the two of you sit outside talking about life. That is, until he mentions his feelings for his ex-girlfriend, and your heart plummets down to the bottom of your gut.
You get the picture here. Having a crush can be a pretty freaking exhausting rollercoaster of emotions.
Why? Because you have found your kryptonite. You have found the one person who makes you totally go off your rocker.
Simply put, your thirsty.
Still not sure what I'm getting at here? Scroll through and let these tweets do the explaining for me.
When you accidentally think your crush feels the same way...
When you guys finally meet in person...
When you're there for your crush in NO TIME...
When he doesn't respond to your text soon enough...
When you aim to please...
When your crush likes your Instagram pics...
When you see them typing...
When you realize what crushes do in the long run...
When you see them with someone else...
When you (kind of) put yourself out there...
When you're the first like...
When your stalking abilities are a little too good...
When they ruin your life without realizing it...
Too freaking real.