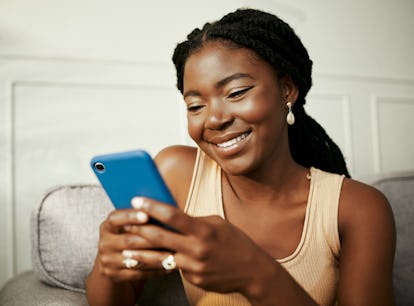 Single On Valentine's Day? These 20 Tweets Will Make You Feel Seen
Delmaine Donson/E+/Getty Images
On Feb. 14, there's a lot of pressure to be in a relationship — to eat chocolates, to get flowers, and to hear those two magical words: "Be Mine." But being single on Valentine's Day is nothing to be ashamed of. Although the Hallmark-concocted holiday can feel slightly overwhelming (especially for those not in a relationship), it really is just a day like any other. Still, if you are finding yourself starting to play the comparison game with IG feeds full of lovey-dovey posts, these tweets about being single on Valentine's Day are the perfect way to get into the holiday spirit, single style.
Whether you're looking for inspiration on how to spend your V-Day or just want to commiserate with other singletons, Twitter is a goldmine for Valentine's Day commentary. The best part? Plenty of the tweets are coming from single people like you (and me), equally un-enamored by the onslaught of heart-shaped and bedazzled cards.
That said, if you need a little humor and TLC to get you through to Feb. 15, take a browse through these Valentine's Day tweets. They might just inspire you to enjoy (rather than resent) the holiday. At the very least, they'll make you feel seen.
No matter how you're spending V-day, a quick scroll through Twitter will make your single life feel a little less sad and a little more relatable.