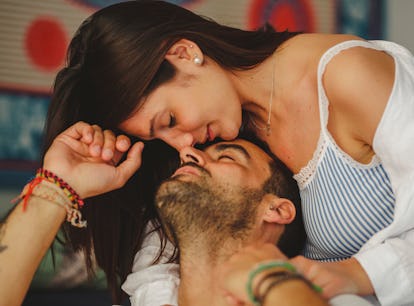 If You Almost Always Initiate Sex, Here's How To Switch That Up
You deserve to be pampered, too.
Addictive Stock / Miguel Valls/Addictive Stock/Getty Images
In the beginning of a relationship, when things are fresh and exciting, initiating sex is probably something that just happens organically with both of you likely initiating things. Over time, when things naturally slow down a bit and the two of you get comfortable, there might be a new normal forming in your relationship. As a couple, you'll find your own sexual patterns of frequency — and also which one of you usually tends to initiate it. Ideally, there is some balance (or at least a dynamic) that both of you are happy with. But for the person who feels like you're always the one to initiate sex, there may develop, over time, what feels like a growing sense of resentment, frustration, and sometimes even insecurity. You get tired of initiating intimacy and wish your partner would do the legwork more often.
But are those feelings warranted? Or is it normal for one partner to be the one to always kick-start those adult fun times? To answer that question, I reached out to the experts — Kelley Kitley, psychotherapist and licensed clinical social worker, and Kayla Lords, a writer and sexpert for Jack and Jill Adult — who shared their thoughts on why this imbalance of initiation tends to happen in relationships, what it means for the relationship, and how to deal with it if it's starting to create a problem for the two of you. If your girlfriend or boyfriend never initiates sex, it doesn't have to be that way forever.
Experts:
Kelley Kitley, psychotherapist and licensed clinical social worker
Kayla Lords, writer and sexpert for Jack and Jill Adult
Danica Mitchell, sex therapist and social worker
This article was originally published on