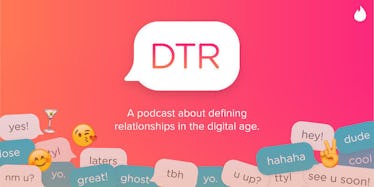 Tinder's New Podcast Explores All The WTF Realities Of Being Single Right Now
Tinder
When Tinder first came out, swiping left and right seemed like a perfectly simple way to rack up mad dates and find love.
But I think we've quickly learned that's not always the case.
You can go on 100,000 Tinder dates a month and still not have a boyfriend to show for them.
Luckily, the dating app isn't leaving us hanging, and they're thinking of new ways to help.
One idea?
They've teamed up with audio company Gimlet Creative to launch a 6-week, half-hour per episode Podcast series called "DTR" (Define The Relationship), a nice, modern auditory exploration of all the struggles singles face when dating in the digital age.
How nice.
Then again, "DTR" seems like a pretty fitting name to me, since nobody even knows what anything means anymore when it comes to hooking up (or acronyms, for that matter).
HELP ME, TINDER. HOW DO I DTR?!
The first episode of Tinder's podcast kicks things off this Thursday, December 8 (you can subscribe on iTunes, Spotify and Google Play), and will be hosted by Jane Marie, music supervisor of "This American Life" and a former editor at Jezebel and columnist at Cosmo.
And what kinds of topics are going to be discussed, you ask?
Oh you know, the usual: what profile pictures actually work on dating apps and whether or not dick pics are actually a thing (guys claim they don't send them... but they do).
Also, the "hotness disparity" issue — aka what can happen when you date someone who's out of your league, or vice versa.
I'm actually super excited about that last one. I really hate the saying "dating out of your league" because that is quitter talk, but I always seem to date guys who are way hotter than me.
But hey, shout out to Tinder for helping me find them.
The trailer for the first episode (which you can listen to above) also touches on the "necessary evil" of sending and receiving the dreaded "Hey" as an opening line to a match.
I will definitely be tuning in to that puppy, because I can proudly say I have never sent a simple "Hey," and I DO NOT reply to it, either. That's an automatic un-match for me.
It's like, can people at least try to be interesting?
Ugh... this podcast better provide some serious answers, because right now, it's reminding me of all the crap parts about dating apps and sending my anxiety through the roof.