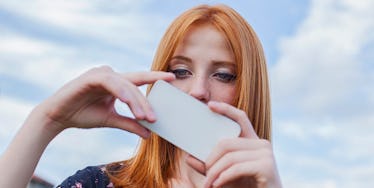 3 Things You Need To Evaluate If You Have 100 Tinder Matches But No Date
Maja Topčagić
Ah, good ol' Tinder. It's the one-swipe shop for everything related to sex, dating, hooking up, etc. In the new age of technology and instant gratification, we prefer to get as much as we can with as little work as possible. So naturally, Tinder seems like the perfect tool for mating.
You mean to tell me I can sit on my couch, in my boxers and a wife-beater with a pizza stain, and be able to talk to and possibly convince women to go out with me? That sounds wonderful. Sign me the f*ck up.
I'm pretty sure that thought, in some form, has crossed the minds of many single men. I'll admit to using Tinder, and I have no shame in saying I've used Tinder at the gym, at work, in the car, at a stop light and on my couch while stewing in my own filth. The best part is, my matches don't know the difference.
There is a downside, though. Your Tinder game needs to be strong when it comes to the conversation. It doesn't matter how ripped you are, how great your hair is, how nice your smile looks or even how well dressed you are.
Does every one of those things come into play when it comes down to getting matches? Yes. Does that do much in the form of helping you transition from putting words on a screen to taking her on a date? Not really.
If you're not able to get an actual date, even though you've made more matches than you know what to do with, chances are, you're making a few critical mistakes. It's likely all due to what you're saying, not saying and how you're coming across in your messages.
Are you conveying confidence in your messages?
Do you take the time to think of a message, or do you use the same generic "What's up?" or "Hey sexy" opener that 300 other moronic guys have probably sent to her in the last 36 hours? This is a huge reason no one is responding to you, and I think most of you don't realize that.
I have the benefit of being an avid reader and writer by nature, so I understand the importance of having the right opening for everything. Whether it's a book, a play, an article I write or a silly message on a dating app, I approach all of my openers with the same vigilance.
Can most of you guys who aren't getting dates say the same thing? Have you ever given any thought to how your first message should make you stand out from all the other guys that blow up her inbox? No?
I didn't think so. Now is the time to start.
Are you good at keeping up a conversation?
Besides that opening line, you need to be able to carry on a conversation. It has to be long enough that you don't seem too forward when you ask for her number and suggest a date. But, it can't be too long that it seems like you're unsure of yourself, her, what you want or what you're doing. If you've been talking on Tinder for a week already and she's responding, you need to ask her out.
You also can't wait too long to reach out after you match. A new conversation with a new match can be exciting, so you want to strike while the iron is hot. Also, gentleman, please use decent grammar and spelling. Most women want a guy who knows the difference between your and you're, or their, there and they're.
Are you aware of how you're flirting?
If you're getting matched up on Tinder every day, but can't seem to make anything materialize into an IRL date, you need to examine what you're doing. Are you putting effort into your first message? Are you coming across as boring or generic? Even worse, are you coming off cocky?
If you sent a badass first message and the conversation is going great, are you making it seem like you're trying to get to know her? Are you talking too much about yourself? Have you even hinted that you'd like to see her in person, instead of being confined to this in-app purgatory?
These are all things to consider. Think about how you're portraying yourself, pay attention to the words you use and try to use the best grammar and language that you're personally capable of. There is something wrong with the way you're going about messaging if you none of your many matches end up going out for dinner or drinks with you.
So, to summarize, put some damn effort in. Think about your opening line, and don't be generic. Don't use a pickup line unless it's cheesy and it's being done in irony. Pay attention to how you word things, and don't drag on a conversation without making your intentions known. Women will want you to show the initiative, and they likely wouldn't have swiped right if they didn't at least entertain the idea of meeting you.
It's really all on you, guys. Don't you dare blame your matches if you can't say you've done everything in this article. I'll leave you with this, a portion of a great quote from the late Robin Williams in one of his best roles:
Language was invented for one reason, boys — to woo women — and, in that endeavor, laziness will not do.
Laziness will get you nowhere on Tinder. Now, armed with this knowledge, happy swiping.