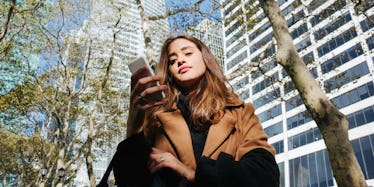 WanderLUST: 10 Tales From Tinder Of Finding Love In A Foreign Place
Traveling isn't the same as it used to be. You used to sit down with a guidebook and highlight the museums, neighborhoods and tourist destinations you planned to see, folding the corners of the pages to mark the very best places.
You researched the hostels where you felt you'd meet the coolest people, and you planned your days as best as you could before you reached your destination.
Then smartphones came around and changed EVERYTHING.
Suddenly, there were no more paper maps in your pockets. There was no more over-planning for fear of not understanding the language.
You didn't book hostels because you thought they'd be good, lively meeting grounds. For better or for worse, the digital world transformed your travel habits.
You have everything in the palm of your hand now. If you miss your train, you immediately know when the next one is coming. If you don't know where to eat, you have every "Top 10" list in the world at your fingertips.
If you don't know whether to bring your rain jacket, you can get an hourly forecast of your exact neighborhood. If you're lost, you can geolocate your way.
You can also geolocate your next foreign love story by using dating apps like Tinder.
Last year, I was traveling in Germany with my parents. The stale family conversation bored me. My parents went to bed, and I stayed at the hotel bar alone.
Once that shut down, I returned to my room and went on Tinder with the little Wi-Fi I had in my hotel. I started chatting with a couple guys, focusing on one named Max.
Max was blond, buff and had a (European) skater boy style. He picked me up at my hotel, and we began our Tinder date.
We had the most incredible night together. We drank, laughed and eventually f*cked. Let's put it this way: those two little beds in my little European hotel room wound up on the other side of the room.
He left early in the morning so that he wouldn't run into my family, but we kept chatting.
I ended up back in Germany later that summer, and we had a romantic rendezvous. We still chat on WhatsApp every now and then. And -- who knows -- maybe Max-ze-German is the one who got away!
I knew I wasn't alone in my Tinder adventures, so I asked some other people whether they've swiped right while abroad, and sure enough, they have.
Here are some of their stories:
Some are innocent with it:
I just wanted to find out where people went out and what the cool bars were, so I asked some cool-looking guys.
- Josh*, 25
Some are aggressive about it:
I used Tinder in Paris because I was single and ready to mingle. I changed my Tinder profile from "Tinder is a sea of fugos" to "An American In Paris just trying to be your mistress for the night, whaddup?" Ended up meeting up with this HOTTTTIEEEEE at a bar called The Frog & Princess and was totally his GF for the night. He later told me he had a real GF. But that's Paris, and I was leaving for London in the morning anyway. No f*cks given -- but many f*cks had -- that fateful eve.
- Gretchen*, 24
Some make some money from it:
A Tinder match looked much older and I lost interest. But she was curious about me and my "filmmaker" bit. That date turned out to be a meeting, and I bagged a five-thousand-dollar contract.
- Jorge*, 32
Some are impatient with it:
There was a language barrier, but I kept typing silly German words to him. The end.
- Dave*, 29
Some are ambivalent about it:
I was in Mexico on business and matched with a guy who shared a similar career to my previous one (archaeology). I met up with him because I thought it would be fun to find out about the work being done in the area from an inside source. Also, why not meet a local? Also, I'm single, so I'm always up for the possibility of some drinks, flirting and fun. We went out for beers and tequila and dinner and had a great time getting to know each other. It was all pretty innocent until we had one drink too many and made out in a bar. That was pretty much the extent of it, though, because I had to leave in the morning and didn't want to take it as far as back to my hotel room.
- Jerry*, 32.
Some find the loopholes in it:
I met someone through Tinder on an island. He and his friend came to meet up with my friend and me at our resort. I instantly felt sparks with the friend and not with the original guy I was intended to meet with. The next day, I awkwardly asked the Tinder guy for his friend's number and said I felt more chemistry with him. He actually had no problem with this, and I ended up having the best vacation fling with the friend.
- Adrianna*, 27.
Some are disappointed by it:
We had a dinner date and went back to his place after kissing in a snowstorm (aww). Turned out he was mega bad in the sack.
- Regina*, 28.
Some find other uses for it:
Tinder is a great tool for finding weed abroad. On a motorcycle trip across Canada, I got stuck in a rainstorm in a town called Gatineau in Quebec. Changed my description to "American on a cross canada trip, I wanna know where the weed at, swipe right if you know the answers." Had great success, expedient delivery, and a private tour of downtown Ottawa at night. We didn't hook up, but that wasn't my objective.
- Bradley*, 31
Some collaborate with it:
Matched a cute boy and met him at a bar with my friends. My friend and I went home with him to his SWANKY-ASS apartment in Toronto that he had moved into one week earlier (after breaking up with an ex he was living with). My friend came to his apartment with me and slept on his couch. She was pissed at me when I woke her up at the asscrack of dawn to get an Uber back to our pregnant friend's house. I text-flirted with him for one or two months after leaving Toronto, and we joked about taking a trip together. But never ended up doing it/it fizzled.
- Susan*, 29
P.S. I'm the (non-pregnant) friend in this story.
Some really get theirs from it:
Denmark was the most positive experience I've had with Tinder while abroad. First a guy from New Zealand met me at my hostel for drinks, then as we were walking to another bar, I was telling him how I don't really do ecstasy anymore, though I used to. To which he replied, "I happen to have two pills in my pocket. Do you wanna do some ecstasy?" To which I replied, "Yeah, sure, f*ck it." They turned out to be the strongest pills I've probably ever taken, and I looked like a gorilla rolling my face off. We went back to his apartment, where we took another one around 6 am. Long story short, it lasted far too long and stopped being fun around 10 am, although I didn't feel normal-ish till around seven that night. But we had fun hanging out like a couple of crackheads. We met up again a few days later and went to an amusement park, had a few beers, strolled around and played some games -- we had a really nice time. There was, however, no hooking up. We just got along well and had a great time. Later on that trip, I met another guy. This one was a local. He took me to see some of the sights (I rode on the back of his bicycle -- it was all very Danish). After a few days of seeing each other, we went to a music festival together. We were attracted to each other and really enjoyed each other's company, but my trip ended about three days after I met him.
- Daniel*, 29
Some Tinder meetups, like the trips themselves, are more memorable than others. Whether you're using it to find friends, weed or sex, Tinder is a great tool to amplify your vacation and meet new people.
Maybe Tindering abroad is generally successful because both parties are aware of the expiration date. Or maybe the language barrier is too strong. Or maybe it's the allure of a foreign place. The takeaway here is that Tindering abroad works -- no matter what you're looking for. When I asked these same people whether they keep in touch with their Tinder encounters, around half said yes.
Get yours, and get those Tinder stamps in your dating passport.
*Names have been changed.