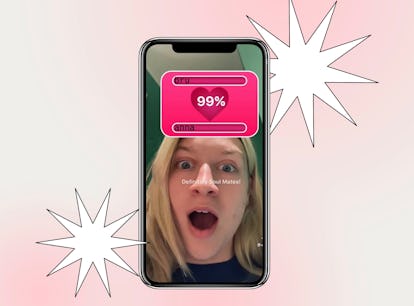 Here's How To Use TikTok's Love Tester Filter
It's not scientific, but it is fun.
TikTok: @annaxsitar
Remember those days in middle school when you'd test you and your crush's compatibility on the internet? Turns out, you can do that on TikTok now, too. In October 2022, user @cameronkaukau80 created the Love Tester filter, which assesses your relationship compatibility based on your names. (OK, OK, so it's not a perfect science.)
By the time of publication, this filter has over 9 million videos, most of them poking fun at the idea of a filter being able to assess soulmates... before eventually giving in and trying it for themselves. Popular TikTokers like Anna Sitar, Txunamy, and Hannah Grace Colin have joined in on the Love Tester trend, using the calculator filter to evaluate their romantic prospects.
So, how does it work? Once you add your names, the filter rates your compatibility on a scale of 0% to 100%. Depending on the range you land in, the Love Tester calculates if you are "just friends," "besties," "woah looks like its a match," or "definitely soulmates." It might sound a little silly, but that doesn't make it any less fun — especially for couples who are determined to be soulmates. After Sitar took the test, she FaceTimed her boyfriend Bru to discuss the results: "*called to tell him & him responding that he told me so.*"
Here are some of the most popular Love Tester filter videos, from the meant-to-be to the friendzoned:
How To Use The Filter
To access this filter, search Love Tester on TikTok, and click into any one of the videos. At the bottom left corner (above the username), you'll see "Love Tester." Tap on that to see all the videos using this effect. From there, you can either add it to your favorites to use later or tap the button at the bottom of your screen that reads, "Use this effect."
From there, it's pretty self-explanatory. Type in your name, press the green check mark, then type in your crush's name. When you're ready to calculate your results, press the record button. Then, all you have to do is wait to see how compatible you really are — or, at least, how compatible the filter thinks your names are.