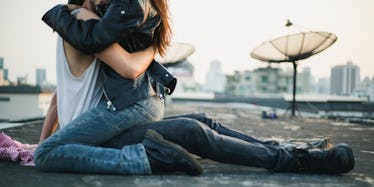 Jeans Were A Bad Choice: 83 Thoughts You've Had While Dry-Humping
You had your third date with Tommy. It was a fabulous night. You had dinner at your favorite restaurant (yes, he remembered it after your brief mention), and the two of you walked hand in hand all over New York City for what felt like five minutes but was actually three hours.
Finally, Tommy walks you back to your apartment. And just like he's done for the last two dates, he says goodnight with one sweet, unassuming kiss outside your front door.
But something has changed. While that sweet, innocent kiss was more than enough for the first two dates, you find yourself wanting a little bit more this time. You're not sure exactly what you want, but you know you definitely want something more than this kiss. So you invite Tommy inside.
He excitedly accepts your invitation, and you lead him up the four flights of stairs up to your apartment. You give him the grand tour of all 1500 square feet of your apartment, and you strategically make the bedroom your last stop. In a power move, you throw yourself on the bed, and Tommy quickly follows by plopping himself on top of you.
You guys start things off with a little makeout session. Next thing you know, you've landed yourself in Dry-Hump City, population: two.
Let me help you relive every thought and emotion that overcomes your mind when you rub your dirty bits against Tommy's with a good, old-fashioned, G-rated denim barrier.
1. LOL, #TBT to high school, amirite?
2. Wait, seriously, when was the last time I did this?
3. It was high school.
4. Yep, definitely James Smith, junior year, Mom and Dad's bed.
5. I wonder how James is doing…
6. Wait, is he married?
7. I think he's married.
8. NO! James Smith isn't the last guy I dry-humped! I definitely dry-humped Todd last month…
9. OMG and we made that playlist!
10. The sexy dry-humping playlist…
11. Should I put that on?
12. I'll put it on.
13. Why would any guy ever want to dry-hump?
14. Is it because he respects me too much to have for-real, no-pants sex with me?
15. Is this love…?
16. Whatever it is, I don't hate it.
17. Wait a minute -- am I low-key into dry-humping?
18. Is that a thing? Can people be into dry-humping?
19. Okay, well, am I into what's going on RIGHT now?
20. I mean, I guess I'm not not into it…
21. But I'm definitely not super into it, either.
22. Clock's ticking here.
23. I'm bored.
24. Those tacos at dinner were great, weren't they?
25. Oh-oh-oh-oh, WAIT A MINUTE -- looks like we got ourselves a nice, hard dong.
26. Hmm, this is kind of a nice preview of what I'm working with.
27. Kind of small, TBH.
28. But it's always a little bigger sans pants, right?
29. Honestly, I don't know.
30. How big did Todd's dick feel with pants on…?
31. Puny, but his actually WAS puny.
32. I think you can feel girth.
33. I don't think Tommy is very girthy.
34. Is not-girthy the same as small?
35. Like what if someone had a super long d*ck, but it just also was super skinny? Is that a small dick...?
36. OR what if someone had a super girthy chode? Like, it was just a super fat baby sausage?
37. That's grosser. That's definitely grosser.
38. So like, TGOD for Tommy and his-not-so-girthy-maybe-small-maybe-long dong.
39. Okay, WHOA, he just rammed something somewhere it shouldn't have been rammed.
40. Ow.
41. Okay, ew, I think I'm chafing in these pants.
42. Tight white jeans were a BAD choice.
43. Like, not only am I chafing hard core, but also I KNOW the blue from his jeans is rubbing off on mine…
44. Can I wear these again if I have a SLIGHT blue stain on the crotch?
45. Probably not.
46. What was I wearing when I did this with Todd…?
47. Oh, f*ck, I had to throw those out.
48. F*ck, I liked these.
49. Would dry-humping feel better with a pillow…?
50. Okay, WHOA, wait a minute... feeling some serious friction here.
51. That felt good.
52. Like, really GOOD.
53. Is this a reflection of how he's actually gonna be in bed? Because if so, DGAF about the lack of girth.
54. Is it possible to rub against my clit through his jeans and my jeans?
55. Yes, I think he just did.
56. C'mon, Tommy, do it again, do it again!
57. Oh-oh-oh... nope.
58. Okay, here we go again.
59. Okay, wait a minute, maybe I am into dry-humping…?
60. Do I have the libido of a 13-year-old?
61. What does that say about me as a person?
62. Am I one of those weird fetish people?
63. Will my friends make fun of me if I tell them this?
64. Scratch that. My friends will 100 percent make fun of me.
65. I still haven't lived down saying the movie "Friends With Benefits" kinda turns me on.
66. HOW will I overcome this?
67. If I don't tell them, is it a lie?
68. Like, will I die with my best friends never having known I was some sort of maniacal dry-humping fiend?
69. I have to tell them.
70. Wait a minute. Did he just reach for his zipper?
71. LOL, no, Tommy. We're not ready to take this to pound-town.
72. Or am I?
73. No, I'm not.
74. I like him, but I'm just not sure I'm ready to run the risk of mothering his baby.
75. We've gotta finish what we started.
76. And what we started was dry-humping…
77. Do I kind of want to make him come in his jeans?!
78. LOL, YEP. I'm going to make him come in his jeans.
79. MUUAHAHAH.
80. Okay, eyes on the prize.
81. HOW much harder do I have to press my pelvis into his?!
82. OMG, he just came.
83. BOOYAH!