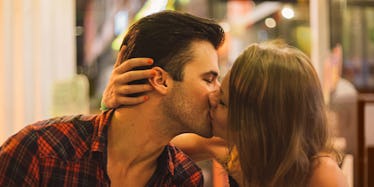 They Go After What They Want: 7 Reasons Entrepreneurs Have Better Sex
I don't know about you, but there are very few things I find sexier than the innovative brain.
Combine an inventive spirit with an innately authoritative personality and a relentlessly ambitious soul, and you will discover my ultimate weakness: the entrepreneur.
An entrepreneur is the hyper-confident leader of business, the bodacious trailblazer who not only attains the creative wherewithal to dream up new, radical ideas -- but also is able to turn his or her professional fantasies into that of a thriving reality.
Oh to be the dangerously unique combination of risk-taking pioneer and creative originator -- how extraordinarily rare.
And despite our vast array of differences, can't we all agree that "rare" is synonymous with "sexy?"
So what exactly is it about an entrepreneur that so intensely turns us on? Clearly it's not so simple or vacant as the allure of mere financial stability -- for an entrepreneur isn't in the game for money alone (in the list of safe jobs, "entrepreneur" resides preciously at the bottom, somewhere between "dancer" and "actor"), and we most definitely attain far too much self-respect to be bought.
After all, money is cheap; vision is expensive.
There is an intrinsic sexiness inherent in all those blessed (or doomed) with the entrepreneurial soul.
Entrepreneurs (budding ones, included) ooze a rare "je ne sais quoi" that is ever so enticing, for they serve as the crème de la crème of sexuality.
This is why entrepreneurs make for better bedroom (or conference room, if you catch my drift) lovers:
1. They're The Ultimate Risk Takers
An entrepreneur is a bold risk taker. Daring to start a business, investing into your own pool of ideas and having a genuine confidence in the strength of your vision takes an incredible amount of GUTS.
In short, an entrepreneur serves as the ultimate, refreshingly sexy risk taker in an otherwise safe (and sexless) world.
There's nothing I detest with more heat than discovering someone I fancy is sexually BORING (some people refer to sexual bleakness as "vanilla," but I actually quite enjoy that flavor and don't care to tarnish its good name).
I'm talking about the epically mundane lovers who engage in only classic techniques the same exact way, in the same exact locations, night after night.
There has to be a fabulous feeling of risk involved in order for sex to be steamy and dangerous.
Sex is all about collecting as many thrills and chills as humanly possible.
It's rooted into the DNA of an entrepreneur to be a ferocious, unabashed risk taker. An entrepreneur will take you on wild sexual adventures that exceed the limitations of the basic bedroom.
Conference rooms, public places and coat closets -- no location is safe from a hot romp with an entrepreneur.
2. They're As Ambitious In Life As They Are In Bed
You have to be a violently ambitious entity in order to survive the throes of entrepreneurship.
It's far too tough a battle to survive without an irrepressible drive and a deep-rooted belief that you can and will win. The wicked fist of adversity is not enough to knock down an entrepreneur.
This trait, this relentless ambition that runs wild in the thick smoke of stiff competition also mimics itself during sex.
An entrepreneur's impressive work ethic doesn't simply end in the boardroom.
An entrepreneur won't stop just because the clock is making its way toward the crux of the night, and he or she has to be up in the morning.
Until you've reached the highest possible peak of amazing, mind-blowing sex, entrepreneurs will keep going. They reach for the sexual stars.
3. They're Unafraid To Ask For What They Want
It's impossible to get anything you so desire in this cruel, cold, ever-spinning world without asking for it.
An entrepreneur understands we're all alone in this life, and no one is going to hand you the things you want.
You've got to have a stealth dose of salt in your personality to have the courage to look another human dead in the eyes and say, "I WANT THIS. CAN YOU GIVE IT TO ME?"
The art of the ask is something you must master in order to get anywhere in this short life.
Yet so many people are too afraid, too shy, too anxious and too proud to ever dare ask for anything, and so they live their lives perpetually unsatisfied.
There is a very specific bitterness that's apparent in a person who hasn't gotten off in a long time. It's highly unsexy. It serves as an erotic repellent.
An entrepreneur will tell you exactly what it's going to take to get his or her rocks off.
I don't know about you, but for me, sex is a collaborative activity. I get as excited about the prospect of turning you on as I do about you turning me on. It's a shining, prime example of teamwork making the dream work.
4. They Enjoy The Process As Much As The End Result
The process of founding a company, of being the sole CEO and creative force of nature in the business world is tiring, long and undeniably drawn out.
Entrepreneurial success rarely happens overnight, and an entrepreneur embraces the process of development, enjoying it (almost) as much as he or she loves the lucrative final result.
The same subsequently goes for SEX. It's not a fast, meaningless, faceless journey to a quick orgasm when you're making love to an entrepreneur.
An entrepreneur will take his or her precious time with your temple of a body, embracing and relishing the long road to sexual success.
5. They Ooze An Inherent Confidence
It's absolutely, hands-down impossible to have great sex with a person who lacks confidence.
It's equally impossible to withhold the ambition, guts and drive of an entrepreneur without having real confidence deep within your soul.
It doesn't matter what you look like or how many visible abs you sport; confidence is the most seductive quality a person can claim.
A truly confident force enters the room, and you almost feel obligated to take your clothes off (in a good way) because you're so seduced with his or her refreshingly hot self-assuredness.
6. They're Willing To Abandon Their Plans
You have to be willing to let your business model grow and evolve with the ever-changing market.
You can't be childishly stubborn, holding on to a formula of how you want your success to pan out -- when it's no longer working.
A successful entrepreneur understands that while it's wonderful to have a plan, you absolutely have to be willing to allow your plan to change in rhythm with the unpredictable world.
The same goes for sex. You have to be willing to abandon the idea of the way in which you had envisioned the sex to go, and instead, surrender to the impulsive, fiery heat of the moment.
7. They Know How To Take Control
Entrepreneurs are strong leaders, not meek followers.
They just weren't designed to be bossed around a grey, characterless office in a nine-to-five.
They hunger for independence -- and take no issue in taking the reigns and being the big, bad boss.
How sexy is a person unafraid of his or her prowess? In a world where we exhibit effort into everything-- our appearance, our careers, our family, our friends--isn't it so f*cking HOT to have someone else take control for once?