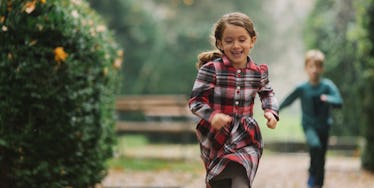 Why The Girl Who Unfroze You In Freeze Tag Is The One Who Got Away
As every guy reflects back upon his own life, he's bound to think of a handful of women: the one who broke his heart; the one whose heart he broke; the one he always chased but could never catch.
But none can compare to the "one who got away."
It's a rather interesting term, isn't it? I mean, it's pretty self-explanatory -- except that, in most cases, she probably didn't slip away as much as be repelled by something we did.
But our memories of her don't quickly leave our subconscious -- no matter how hard we try. And this is because we are thinking of what might have been. 
Men -- like all people, for that matter -- take things for granted. We don't appreciate things when we have them. We understand their worth only when they're gone.
Take Justin Turner, for example. He was a decent ballplayer with the Mets a few years ago. He had red hair, a beard and played pretty much every position on the diamond, so he was pretty revered by everybody.
But he wasn't what you'd call a standout player. And in the 2013 off-season, the Mets apparently decided they other plans for the future of their roster, so they cut Justin Turner.
Frankly, it wasn't that big of a deal -- at least not at the time. Like I said, he was a mediocre ballplayer, so I guess the Mets braintrust assumed they would be able to find a more talented replacement elsewhere.
Two years later, Justin Turner is the greatest player on the face of the planet. And in typical Mets fashion, Justin Turner drove in the decisive runs FOR THE DODGERS to defeat his old team last night at Citi Field… in the f*cking playoffs.
If you haven't noticed the parallel I'm making here, Justin Turner is the "one who got away" for the Mets.
Like all of us, they took a good thing for granted.
Maybe "the one who got away" was your first crush in middle school. Or maybe it was the girl you locked eyes with at the deli but were too bashful to approach. All of us would probably take a mulligan to pursue these special women just one more time.
But there are no do-overs when it comes to lost love, my friend -- only the agony of our own regret.
Take it from me; I'm still marinating in the heartache I suffered after my "one" got away.
It was 2000. We were in recess. And a popular game during recess was freeze tag. I'm not sure where our class's obsession with freeze tag came from. (I always rooted for Seven Up, myself.) Whatever the reason, we played.
And I played to win. Preferring Seven Up did not stop me from being competitive at freeze tag. Believe it or not, I'm hyper-f*cking-competitive (think '84 McEnroe playing FIFA). So freeze tag was like a daily World Series for eight-year-old me.
During that fateful game, something remarkable happened. The kid who was "it" on this day had some type of bizarre vendetta against me. I was tagged rather quickly, kind of like a sale item on the day after Christmas.
I stood frozen for what felt like an eternity. When I had started to doubt that salvation would ever come, it did. Out of nowhere, a quiet girl from my class grabbed my arm and told me to "run free," like I'd been trapped in a basement for some weeks on end.
This was during that time in pre-adolescence when boys were stupid and girls had cooties, so it was a BIG deal for a chick to go out of her way to unfreeze me. It was like that scene in "The Hunger Games" where Jennifer Lawrence (Catnip) saves Peeta (Pita/Peter?).
It took me years to realize how rare and irreplaceable that girl was. Everyone wants to tie each other down these days -- especially once plaid hits the streets and we get closer to cuffing season.
She just wanted me to "run free." She just wanted to liberate me! She didn't want to hold me down. She wanted me to advance, and her generosity melted me (literally and figuratively).
I should have kept her around. At the very least, I should have asked for her name or sat next to her during snack. But I didn't. In fact, I'm pretty sure I tagged her out sometime shortly after. (I'm telling you, I'm mad f*cking competitive. And, like I said, boys were stupid then.)
I guess hindsight is 20/20, especially for an 8-year-old. But she'll always be the one who got away. But I try to not let it get to me. They say the hottest love has the coldest end – and it really don't get much colder than freeze tag, folks.