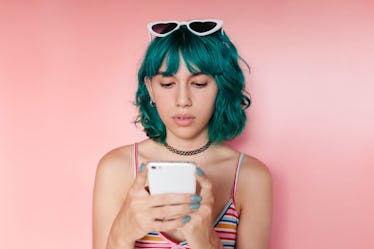 If You're On A Break From Your Relationship, Can You Still Talk?
The experts agree on this one.
Is there anything more confusing in a relationship than when you (or even worse, your SO) decide it's time to "take a break"? Not a breakup, but a break. As any Friends fan knows, the concept is infamous for being confusing. What does taking a break in a relationship really mean? Does it mean you don't talk for a while? Are you're seeing other people? Is there a time limit? And can you and your SO have any contact during a relationship break?
While the answers to the first four questions are hazy, Eric Resnick, dating expert and profile writer, offers a very definitive solution for the last."You definitely want to cut contact in this situation," he tells Elite Daily. And he's not alone in this opinion. Trina Leckie, breakup coach and host of the breakup BOOST podcast, agrees completely. "If you and your partner are taking a break from the relationship, it should be exactly that — a break," she explains.
Going no contact might sound vindictive or rude, but it's really the best way to embrace your time apart, which is the whole purpose of the break. "Separation can be very healing," Ann Rosen Spector, Ph.D., a clinical psychologist in Philadelphia, explained to Women's Health. "When a situation is complicated, having distance to get clarity is important."
According to experts, it's important to keep communication to a minimum in order to take full advantage of this healing time. Although it's always nice to have a conclusive answer, especially in moments when it feels like everything is up in the air, the question remains: Why do the experts feel so strongly that you should cut off texting contact? I asked them to break down all the reasons you should resist the urge to contact your partner during a break, and their answers are going to make you want to put down your phone ASAP (and potentially lock it in a different room).
Experts:
Eric Resnick, dating expert and profile writer
Trina Leckie, breakup coach and host of the breakup BOOST podcast
Ann Rosen Spector, Ph.D., clinical psychologist
This article was originally published on