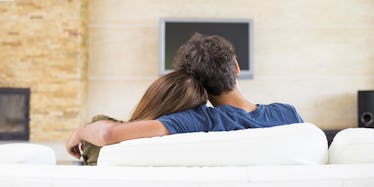 The 10 Stages Of Watching Porn With Your Boyfriend For The First Time
Shutterstock
"The world watched a lot of porn this year," said PornHub in its recently released 2015 Year In Review.
How much porn?
Enough to fill the storage of around 175 million 16 GB iPhones.
That's a lot, and I'm not saying that in a bad way. More women than ever before are tuning in.
But for women interested in watching porn with their boyfriends, it can either lead to lots of fun, growth and discussion, or it can turn into a complete disaster.
Don't get pressured into it if it's not your thing.
But if you do decide to take that step, here's how to coach yourself through the 10 crazy emotions you'll encounter along the way:
1. Openness
You're not one of the 4.6 percent of women who thinks her boyfriend should quit porn cold turkey.
You feel ready to be part of the 14.1 percent of women who embrace it and watch it with their boyfriends.
After all, you remember how he got you into other things you now love, like football, video games and going to the gym.
You see porn as something that could bring you closer together.
With that open mentality, you tentatively say "yes" when he asks if you'd like to watch something naughty with him.
2. Insecurity
He joyously grabs the laptop or remote, as if he's been waiting for this moment for a long time.
But a familiar insecurity creeps in.
"Why does he even watch this stuff if he has me?"
Maybe you take it a little personally, like you're not keeping him satisfied.
Stop. You're not doing anything wrong.
In Andre Shakti's article, "8 Reasons Watching Porn Doesn't Make Him A Cheater," she explains that porn is a good outlet for guys to use their imaginations without confusing the porn with reality.
His viewing habits are not reflective of you as a girlfriend.
He's just exploring his fantasies, and now, he's inviting you in to explore them with him.
3. Indignation
Now, he's put his browser on private and is navigating to his favorite website.
It's the speed at which he does all of this that makes you feel a little indignant.
You knew he watched porn, but you didn't think he had it down to an exact science.
Or maybe, you had sheepishly held out hope he'd be a complete novice.
Nope, he's pretty much a pro at this.
This makes you feel slightly embarrassed and annoyed.
4. The Green-Eyed Monster
To make it worse, you've silently started freaking out.
You're wondering if he'll be more attracted to the woman on the screen than he is to you, his lovely girlfriend sitting right next to him.
Women imagine their guys would leave them for porn stars in a heartbeat if they could.
So what? You're not the woman on the screen, but she's not you, either.
He dates you for who you are.
He loves your body, your personality, your thoughts, the way you laugh when he tickles your thigh and that spot he loves to kiss on your neck.
You're the real thing, and she in no way takes away from what you two have.
In a weird way, she's actually bringing you closer together.
5. Humor
Now, you're loosening up a bit.
You're scrolling through the categories and making some selections.
So far, the experience hasn't been as steamy as you thought it would be.
The first time watching porn together seldom is.
In fact, due to all the awkward and comical sound effects and camera angles, you two are giggling like third-graders.
You've even gotten into a discussion with your partner about just what the hell couples are supposed to do during these videos anyway.
Watch them? Act them out? It doesn't matter.
Either way, you're laughing and bonding. You never expected that.
6. Exploration
You've watched one video, two videos and then three videos.
You're a little too flushed to notice he's watching your reaction, interested in seeing what you like.
It's kind of adorable, actually.
He's surprised to find "girl on girl" is your favorite category, and who knew he'd be so into foreign chicks?
(Remember this is just his fantasy, and not a reflection on you.)
You're learning about each other and getting all these crazy ideas, which leads to a revelation.
7. Light-Bulb Moment
You're actually having fun.
You feel so comfortable with him, you blurt, "Umm, we could totally do this."
That's not all that far from the truth.
In an article for Total Frat Move, college student turned adult entertainer Carter Cruise quipped,
[L]iterally any girl that isn't 4,000 pounds can shoot for Bang Bros. It wasn't a huge deal.
The woman onscreen is just someone like you.
She doesn't have toned or ripped abs, which makes you feel better about your own slight flab.
Her boobs aren't even that much bigger than your own barely-Bs.
She's hot, but so are you.
You finally realize you're not competing with some fantasy woman of his. You're the same. 
8. Confidence
Sure, watching porn together doesn't mean you two are ready to sign with an agency any time soon or shoot your own sex tape.
But it's made you realize the stuff they do in the vids — unless it's the really kinky stuff — isn't all that different from the stuff you two have been doing all along.
Porn has not been his secret escape into a world of wonderful sex he's not having with you.
This makes you feel better about your bedroom game.
9. Distraction
By this point, you're both pretty turned on.
Neither of you is even paying attention to what's on the screen because you were distracted doing other things.
This is great. That's kind of the whole point of watching porn together in the first place.
You're ready to get on top — or under, over and sideways — to show off those rock star moves you never even knew you had.
10. Surprise
You're surprised because you'd do it again in a heartbeat.
You're over seeing porn as competition for your guy's attention.
Only 8 percent of guys prefer porn to actual sex, anyway.
You see it for what it is.
It's something to augment you and your partner's sex life, not supplant it.
You have a better idea of what he likes and vice versa, and you would never have known that if you hadn't decided to give it a try.
So, kudos. You surprised your partner.
Even better, you surprised yourself.
Now, it's time to go film that sex tape.
Just kidding. (I'm totally not.)