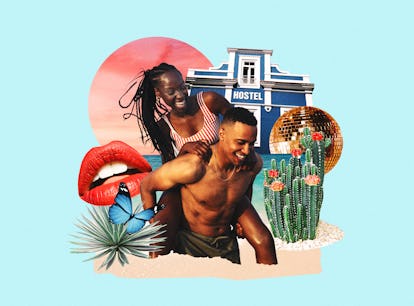 These 10 Solo Travel Hookup Stories Are Actually Beyond Wild
For starters, there was an orgy with a pro sports team.
Pedro Merino/Thais Varela/Stocksy/Shutterstock/Getty Images
In a world full of adventures, it can be empowering to travel alone — and on your own terms. Whether you dream of soaking up the sun on some far-flung beach or want to try a croissant from every cute sidewalk cafe in Paris, chasing your wanderlust can be majorly satisfying. But there's a difference between traveling alone and being alone.
Let's say you hit it off with a local on a crowded dance floor in Amsterdam. Or perhaps you connect with a hostelmate while hiking a national park in Bangkok. Regardless of how casual hookups happen, they can still make your travel experience more insightful. "Like everything when we travel, hookup experiences are ways we explore new cultures and new people," Beth Santos, founder and CEO of Wanderful, tells Elite Daily.
If you're planning to scope out someone cute on your next vacation, you're far from alone. A 2021 survey by the blog Solo Female Travelers found that 85% of Gen Z women travel alone to meet people.
While a travel hookup can be exciting, it's important to consider safety. Kimberly Koehler, a dating and relationship coach and co-founder of Nomad Soulmates, a dating site for digital nomads, says part of making the experience enjoyable is thinking even before you begin your trip. She suggests you should ask yourself: "What do I need to feel secure? How will my friends know where I am? How do I ensure that I can get out of a situation if needed?"
So, as you pack your fifth (OK, maybe sixth) swimsuit for a steamy week in Cabo or your winter gear for a cozy ski trip in Banff, remember to bring what you need for a potential hookup. Santos encourages packing protection. In travel situations, you don't have the knowledge of birth control options, she explains. "Take care of 'future you' now."
Once you're on your trip, you can both be safe — and have fun. Lily Heise, a romantic travel expert, says she looks for the liveliest bar to mingle. Just keep an eye on your drink, she recommends. For connections online, try to learn about the person before meeting. Ask for a link to one of their social channels, says Kelsey, a travel blogger who runs an Instagram called @sightsbetterseen. In scenarios where you change your mind, Heise suggests having a readymade excuse. Koehler adds that it's crucial to be confident in knowing that you have the strength to say no. And listen to your gut. "If something feels off, it probably is," Kelsey says.
Traveling solo allows you to create an experience that's entirely yours. Maybe your goal is to backpack the Grand Canyon or visit museums in Cairo. If you happen to make a connection along the way, it's key to be prepared. By keeping safety in mind, there's a better chance that you'll have a hookup that you enjoy — and remember long after the trip is over.
Ready to spice up your next trip? Take inspiration from these 10 solo travelers who stumbled into all sorts of frisky adventures, from a fling in a luxurious honeymoon suite to an orgy with pro athletes.