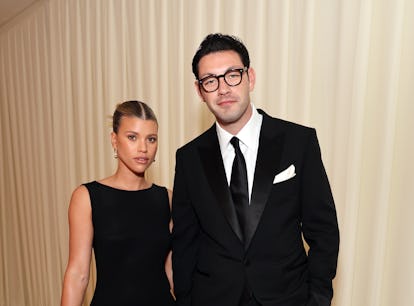 Stop Everything, Sofia Richie Got Engaged With The Blingiest Ring
Amy Sussman/Getty Images Entertainment/Getty Images
After almost 18 months together, Sofia Richie and Elliot Grainge are officially engaged. The duo has mostly kept their romance under wraps, but shared the exciting update on Instagram on April 20. From the carousel of photos, it's clear that their proposal was idyllic — candlelit, by the ocean, with all the flower petals. Not to mention, Richie's engagement ring is jaw-dropping, but would you expect any less?
Grainge, the founder and CEO of indie record label 10K Projects, proposed to Richie during a serene island getaway. Per Page Six, the couple was visiting Hawaii and staying at the Four Seasons Hualalai with their close friends and family (including Nicole Richie). So there were plenty of people to celebrate the engagement... and plenty of amateur photographers to snap pics.
On April 20, Instagram was flooded with photos of the romantic moment. Obviously, Richie and Grainge posted their new relationship status on IG. Slightly less obviously, the couple's entourage posted just as many (and maybe more?) pictures of the post-proposal celebrations. From kiss-cam footage to pics of Richie's emerald-cut diamond ring, followers got an inside look at the couple's engagement — and it was incredibly romantic.
Sharing photos of the sunset proposal on IG, Richie wrote, "Forever isn't long enough." For Grainge's post, he went with the classic, "She said yes." (To be fair, he's a little newer to the creative caption game. Really, you have to give him extra points for the fact that he only has three posts on IG — and two of them are with Richie.)
The couple's family and friends seemed just as eager to celebrate the big day. On her IG Stories, Nicole Richie quipped, "Can't wait to find ways to make this about me." But even those who weren't there made a point to congratulate the couple. Paris Hilton commented on Richie's Instagram, "Congratulations sis!! So happy for you two! Love you!" Lori Harvey also chimed in, commenting, "Omggg congratulations babe!!"
Not to mention, Richie's friends happily shared screenshots from their FaceTimes with the bride-to-be. Thankfully, these pics included more closeups of her stunning ring. "Sheeeeeeeesh ❤️❤️❤️," one wrote of the bling. Agreed.
Major congrats to the happy couple! If their engagement was this picture-perfect, I cannot wait to see what their wedding looks like. 'Til then, I'll be daydreaming about Richie's ring.