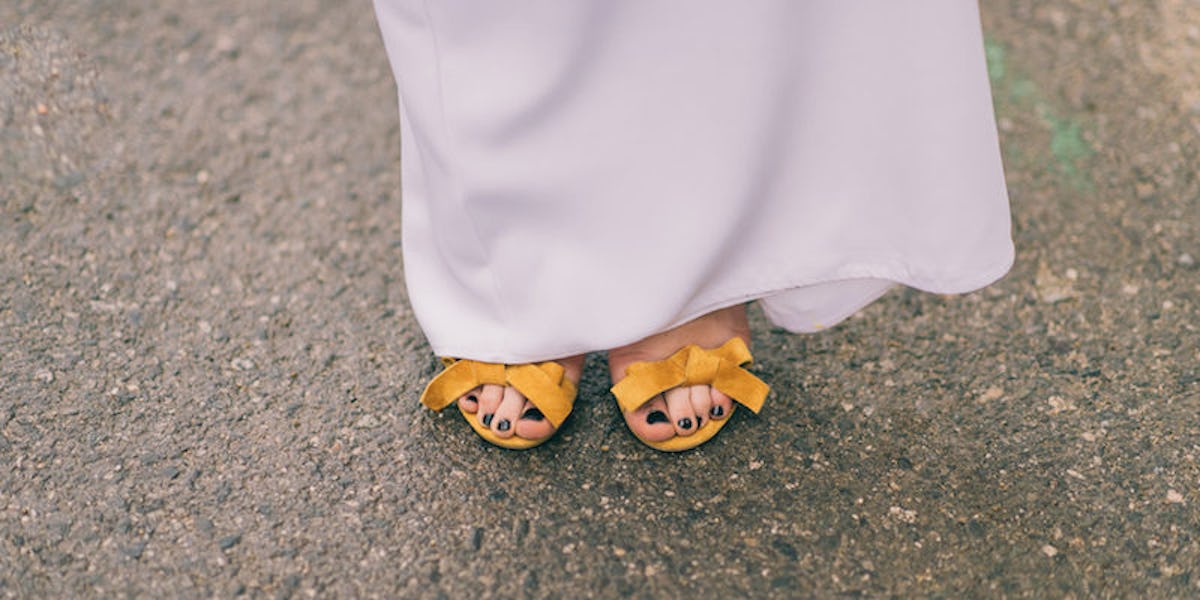 9 Crazy Things Single Girls Are Already Doing To Plan For Their Weddings
Adrian Cotiga
A lot of us will nonchalantly admit that we started planning our wedding long before we even knew the truth about true love. It all started back when we played with Barbies and spent Saturday mornings with a juice box and our favorite cartoons on TV.
But as we got older, it became clear that planning a wedding, without a spouse in the picture, became almost taboo. It became something, that if we did do it, we never admitted. People would probably tell us to take that free time and invest it in something more practical, like dating, or a hobby where we could meet a potential suitor.
The truth is, no matter how single we are, we all think about how we'd like our wedding to be one day. Take a look at these nine single girls who admit the secret ways they have already started planning their future big day:
1. "I stole my married friend's wedding planning book."
I was the Maid of Honor for my good friend's wedding last year. When the wedding was over and I was at her apartment helping her unpack gifts, I slipped her wedding notebook in my bag. It had all her vendor's names and all her ideas for decorations and wedding accessories. I photocopied the whole thing before returning it. I could have asked her for it when it was my time to get married, whenever that is, but I wanted to start planning my wedding now.
– Lani H., 24
2. "I have 20 wedding Pinterest boards."
I feel like every girl has secret wedding boards, but I have 20 — one for each aspect of my wedding. They are all totally private, and I haven't told any of my friends or my mom about these. But let's just say, whenever I meet a guy and he pops the question, I'll be ready to get this wedding planned in no time.
– Kylie G., 26
3. "I already bought my wedding dress."
I saw the dress of my dreams when I was trying on bridesmaid dresses for a friend's wedding. I kept my eye on it for a few months and one day, they had a blowout sale. The dress was 50 percent off. I went in, paid for it with my credit card and hung it up in the back of my closet. My friends think it's just another bridesmaid dress inside. I'll never tell anyone about this.
– Vivi J., 30
4. "I have a folder on my desktop."
I save fun wedding articles and cool photos that I see on Instagram in this folder. It's on my desktop under the label 'Work Stuff.' I figure nobody will be bored enough to ever open that folder. It's my private stash of wedding goodies.
– Beth-Anne M., 29
5. "I designed my wedding invitations."
I'm a graphic designer and a friend hired me to design her wedding invitations and save the dates. When I was doing it, and she wasn't liking any of my designs, I just used some of the drafts I made for her and put my name and my details on it. Of course, the grooms name, the date and the venue is all still left blank.
– Dani P., 30
6. "I've taken myself ring shopping."
I was bored one Saturday, so I went ring shopping. I told the salespeople my fiancé was home sick and I was just doing some research on the perfect ring. I found two options I loved and took photos, so that when my time comes, my guy will know the ring style I want. Every girl should do this.
– Jessica J., 27
7. "I picked out my bridesmaids."
I drunkenly told five girls that when I get married they will be my bridesmaids. They all remembered this promise and bring it up to me regularly. When we're all together, once or twice a year, we go try on bridesmaids dresses. I want them to take as much time as possible to find a dress for my wedding they actually are hyped about wearing.
– Kimmy W., 28
8. "I've narrowed it down to three venues."
I definitely want a destination wedding. I have a tiny family, and I don't know what kind of family my future husband will have, but I don't honestly care. I want to have a beach wedding, so I've found three spots.
– Colletee M., 25
9. "I've already started saving."
I know whenever it's time to get married, I'll have to pay for it on my own. I have a savings account for my future wedding. Every month, I put $50 in it.
– Kelley A., 23