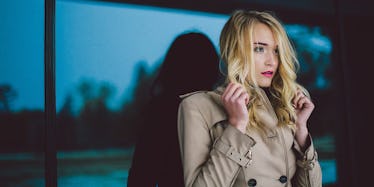 4 Things That Happen When You're Single AF, But Over The Dating Scene
There is bound to be a time in any given single person's life when he or she is wildly single AF but completely over the wild, single AF life.
We are the ones who are completely over bar trolls and one-night-stands, and we yearn for the real deal.
We are the unfortunate souls who are torn smack dab in the middle of two extremes.
We want to find love. Yet, the dating scene has become an awkward and fruitless endeavor.
How on earth can you find a relationship if you are sick and tired of dating?
Tinder? No thanks.
Blind dates? Hell to the no.
Good, old-fashioned meet at the bar or through friends? Been there, done that.
It's quite a sh*tty situation to be in.
As we grow up, we are told if we don't like a particular part of our lives, we have to work to change it.
Whoever came up with this idea certainly could not have been single for a long period of time.
The world of dating in this day and age is exhausting. We troll social media, have apps that basically set us up for one-night-stands and are in constant communication with all the "options."
We get ignored.
We read into Snapchats that come with no responses, and we freak the f*ck out about follows and "likes" on social media.
It is a never-ending spiral, even when you're in a happy relationship.
So, what about us?
What about the ones hopelessly devoted to their quest for love, but also hopelessly tired of participating in what it takes to date?
Why can't we get off our asses and back into the dating game?
Well, for those who don't understand this predicament, be prepared to be enlightened.
This is how those of us who are begrudgingly single AF feel during the classic motions of our dating lives:
1. Girls' Night Out
Nothing could help break your endless single cycle like a girls' night out, right?
Wrong.
As you sit at a restaurant mapping out your assault on the bar scene, everyone is amped and excited about what guys could be there and how the night could possibly end.
While it's all fun and exciting, you've been around the bar scene for far too many years to actually believe that bar banter and possible hook-ups can result in anything real.
Your own personal history tells you these nights out will lead to nothing but a waste of time and, potentially, a huge creeper.
So, your reaction while the girls are fluttering away at the hotties at the bar is to hang back and talk to an old friend you happened to bump into.
2. Being Asked Out By Someone You Aren't Into
When a guy you have severely mellow feelings for asks you out, your former single AF self who embraces all aspects of the single life would definitely go.
You'll be getting a free meal, right? What's the worst that could happen?
However, now that you're over being single, you literally see no point in wasting your time or the guy's time.
You are quite certain this guy is not what you want long-term.
So you turn him down, even though it's just one date.
3. Your RSVP Status
Whether it's holiday parties, weddings or charity events, you would rather just be alone.
The thought of entertaining another dude at an event like this just seems exhausting. You've had too many bad plus-ones to risk having one more.
You want your next plus-one to be the one you have for good.
4. Social Media Boredom
When we were single AF, the medias were pretty damn entertaining when it came to striking up a conversation with potential dates.
Find a cute guy on the Insta popular page?
He would get an add, due to the hopes of striking up some form of relationship from thin Internet air.
Now that you're over it, you're far more interested in creeping the food pics, the gorgeous travel locales and the random strangers who just post really good sh*t.
You are way too sick of the "random add in the hope that it'll go somewhere" routine. It really hasn't done much for you in the past, and you don't even view it as a viable option.
Our nights are spent textless, our dreams are filled with no romantic prospects and we absolutely sleep starfish every night.
All this is plenty to keep us happy and perfectly content until the Gods of fate step in and help our "over it" selves stumble into love.