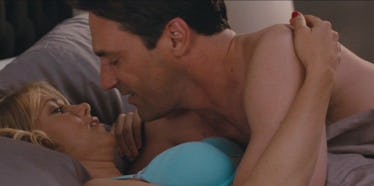 Booty Call Or Bae? 10 Signs Your Romance Is Staying Under The Sheets
Universal Pictures
With age comes wisdom. But, it doesn't take a rocket scientist to realize the cute guy you like is just using you for your cute rear-end.
The line between "exclusive" and "just casual" can get pretty blurry when you're lovers in the sack, but strangers on the sidewalk.
It may seem cool to be able to separate your emotions and have a meaningless fling, but you have be aware of your booty-call status, in order to put up your own wall.
If not, you'll probably have the wind knocked out of you when he tells you he found his real bae. Instead of texting your group chat of all your girlfriends, and tearing apart every word or look he's ever given you, just stay observant of his bold indications.
To save many of you the pain of finding out you're not his number one, listen to these simple booty-call warnings:
1. You're never been introduced to his friends or family.
If you matter to him, he'll want to show you off. When you're his girl, he'll make it known to everyone you are taken.
2. You won't have a lot of interaction outside the bedroom.
You'll either be hooking up, or he'll be thinking of every way to start hooking up.
3. He's never introduced you to his female friends.
This is definitely more important than meeting the guys. For the guys, he's bringing you around to brag about the hot chick he's with.
For the girls, though, it would mean he's proud of his lady.
Bringing you around other women means he wants their opinions, and he thinks you're good enough for their standards.
4. He never just randomly kisses you.
This is the simplest sign of affection. Do not hold your breath for a kiss on the cheek; the only lip action he wants is leading you to the sheets.
5. There's never any cuddling.
After you do the "deed," it's normal to want a little relaxing skin-to-skin time.
You satisfied him, and he satisfied you. There should be celebration cuddles.
When you're a booty call, though, he doesn't want any PG-rated action in bed after he already got what he was looking for.
6. You don't go out on dates together.
Why take you out on a fancy date when he knows he can get you with a simple text?
If he knows you're up for hitting the sack without him taking you to dinner, he'll be all over it.
7. He never talks about the future or the terms of your partnership.
This may be because he doesn't see you in his long-term future. Basically, you probably shouldn't be morphing your faces together to see what your future baby will look like.
A booty call usually doesn't turn out to be a wifey.
8. You'll hear countless excuses as to why he doesn't want a relationship.
From "I'm too busy to fit a girlfriend into my schedule right now" to "I really don't like labels," you'll know he's just full of bull.
Don't let him off the hook with these lines.
Drill the subject until you get the truth.
9. You'll never get a simple text about how you are doing.
Don't expect a heart-to-heart about how your week is going.
You'll even probably be the one who texts him first, and he won't answer until he needs your services.
His delayed response will also then be followed with another sh*tty excuse as to why.
10. You only hear from him at odd hours.
You'll usually get a text after midnight, so don't wait for a text at 5 to make dinner plans.
When your phone buzzes at 2 am, it will most likely be him.
This isn't even because he cares about what you're doing. He's just checking to see if you're still awake.
He will then attempt a booty call, and he will persuade you to let him come over.