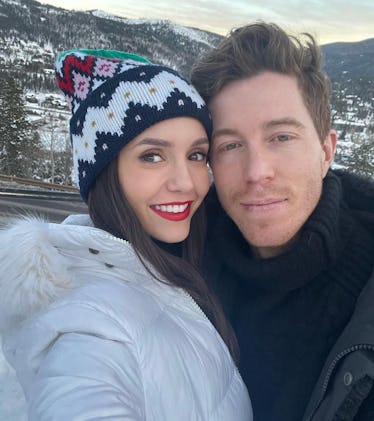 Shaun And Nina's Relationship Timeline Is Anything But Icy
Their first date story is adorable.
Instagram/@nina
Shaun White and Nina Dobrev are not exactly the most traditional couple in Hollywood. As a professional snowboarder and an accomplished actor, the two might not make a lot of sense on paper, but that's kind of why they work so well. A closer look at White and Dobrev's relationship timeline reveals exactly why this couple is just so good together.
"They're super compatible and both free-spirited people," a source told Us Weekly in May 2020. "They're very comfortable around each other and both supportive of one another in their fields." So far their relationship has been punctuated by sweet moments of the duo going out of their way to show each other love. And it's been pretty necessary, too.
With such busy schedules (including movie shoots, Olympic Trials, etc.), they've had to put in a lot of effort to make their relationship work. The good news? They're masters of communication. "The problems that we do face, they kind of fall away through communication. It's just been great," White said of their relationship in January.
And it seems like it's been pretty smooth sailing (snowboarding?) since they first connected in 2019. So let's take a trip down memory lane and discuss the highlights of White and Dobrev's relationship.
Is it cringey to say that their relationship deserves a gold medal?