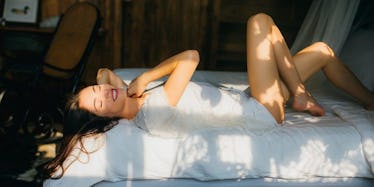 Why Confidence Is The Only Thing You Need To Have Better, Hotter Sex
While the tantalizing feeling of him running his fingers over the small curve of my back could be seen as a major gesture of admiration, all I thought about was how bloated I felt last night after eating too many French fries.
Affection and human touch are beautiful qualities of love that no other human language can portray. But a lack of confidence can get in the way of us fully experiencing the depths of those qualities.
And unfortunately, not all who are in love have the kind of relationship with someone else (and themselves) that lets your confidence come through.
Here are three specific reasons the most powerful kind of love and intimacy stems from loving yourself:
1. Taking off your clothes is sexier if you do it confidently.
To many, getting undressed in front of someone else is a huge deal. And there's nothing sexy about taking off your underwear and shying your legs together as if you have something to hide.
Whether you realize this or not, a lack of confidence in your body will show in your body language. So taking your pants off and instantly hunching your back and closing your legs doesn't really help in making you look sexy and bang-able.
2. Sexual pleasure is amplified when you're confident.
If you know how to work it yourself, the person you're bringing to the sack will be able to know exactly how you want it.
Whether you're sleeping with someone for the first time or with a consistent partner, whom you're banging will notice your body confidence.
Of course, not everybody out there is looking for someone to dominate them in the bedroom, but approaching the situation like you know what you're doing never hurt anybody.
Let's be real: Honestly is key when it comes to having good sex. When you're confident, you're more likely to speak up and say what you do and do not like, as insecurity tends to mute our ability to speak up. Let your voice be heard!
3. The act of having sex is extremely vulnerable.
Sex itself is an extremely vulnerable act. You're literally exposed from the inside out to another person whom you've most likely only known for a short amount of time.
Sex isn't necessarily something that should be given out too easily (unless you feel comfortable doing it), but you also don't need to lock yourself away and never enjoy some fun in the sheets.
But to open yourself up to someone through intimate sex, you must have a decent level of self-confidence, as well as trust and confidence in the person you're allowing into that vulnerable part of your life.
Throughout my sexual experiences, I've discovered that having a mirror or some other way to see myself in the moment pushes my confidence through the roof.
Now, this probably seems a little out there, but, damn, does it work for me. Not only has it taught me how seductive I can be on my own, but it's changed my perspective on how I view my own bodily imperfections.
Approaching sex with confidence is an amazing way to intensify your already intimate relationship with someone and boost your own self-esteem.
One of the most raw, beautiful sides of the human body is its ability to come undone, and you can enjoy this even more with a little self-confidence.